Version 3.1.4 of Peter's Math Anti-Spam for WordPress
Here's another spin-off of Peter's Custom Anti-Spam Image for WordPress that will generate math anti-spam equations as images instead of custom anti-spam images.
I'll repeat what I wrote in the original post: there are quite a few plugins to combat blog comment spam, and they usually come in two varieties: one that filters and identifies spam posts and another that forces users to identify a random word displayed as an image in order to block spambots that cannot read your image. You can (and should) use both varieties of spam filters in tandem. Spambots are getting smarter and some can read images. Most, however cannot.
The goal of this spin-off plugin is to further fool spambots somewhat by combining the "make them answer a math equation" and "make them read an image" ideas. This plugin aims to keep the readability of the Custom Anti-Spam version, as well as other features like random fonts and colours.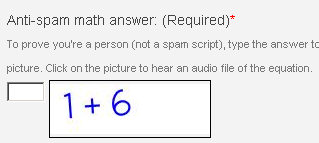 Without further ado…
Version 3.1.4 of Peter's Math Anti-Spam Image Plugin for WordPress [August 2, 2010: Minor code tweak for WordPress 3.0.]
English release
Translations
For version 3.1.3 and up, extract these files over an existing English plugin install:
Older versions:
For details on the changes from version 3.1.3 and higher, read the history page for the custom anti-spam plugin.
Version 1.0.5 [August 2, 2008: Added a setting $cas_wpconfig for the absolute path to wp-config.php for WordPress 2.6+ users who have moved either wp-config.php or the wp-content folder from the default locations.]
Version 1.0.4 [May 31, 2008: Fixed the registration form protection for WordPress 2.5. Pre-WordPress 2.5 users who want to use the registration form protection must use Version 1.0.3 of this plugin or lower.]
Version 1.0.3 [May 24th, 2008: For efficiency reasons, image and audio generation is now run directly through the plugin file.]
Version 1.0.2 [March 13th, 2008: Minor tweak to ensure compatibility with WordPress 2.5.]
Version 1.0.1 [February 10th, 2008: New option to disable random stretching of the wav files. Made the operation to stretch the wav files silent to the server(thanks Angelo!). Blocked indexing of audio file links by search engines (thanks Lucky!).]
Version 1.0.0 [January 20th, 2007: Added registration form protection (WordPress 2.1 and higher required) and a corresponding e-mail blacklist. For registration form protection, set $cas_reg_protection equal to "true". Also tweaked the audio file generation with wav files to be more robust against spambots.]
Version 0.1.6 [November 20th, 2007: Minor code tweak to the image and audio generation code so that full page generation doesn't occur unnecessarily (thanks Steve!).]
Version 0.1.5 [November 11th, 2007: Made a few minor efficiency and display tweaks, and switched up the fonts.]
Version 0.1.4 [October 13th, 2007: Tweaked a database command to be more compatible, allowed a site address override (over the WordPress site URL value), and removed some redundant code.]
Version 0.1.3 [September 30th, 2007: Fixed a bug that was blocking trackbacks and pingbacks for the past few versions (a stupid oversight on my part in the order of some code).]
Version 0.1.2 [September 26th, 2007: Fixed minor CSS detail, allowed for different folder names for the plugin, and renamed mp3 class to avoid the possibility of clashes with other class names.]
Version 0.1.1 [September 10th, 2007: Fixed a bug whereby the audio files weren't generating in all Internet Explorer setups. Fixed a bug with the "don't force registered users to enter the anti-spam word" setting. Changed table creation method so that PHP installations with low memory allocated to scripts will still be able to create the necessary tables. Also, made all display strings more easily customizable, to enhance translation support.]
Version 0.1.0 [September 3rd, 2007: First version!]
Unzip the entire folder math-anti-spam to your plugins directory, so that the path is wp-content/plugins/math-anti-spam/. Then activate the plugin via your WordPress admin section. The plugin should work directly "out of the box". For version 3.1.3 and higher, all settings can be customized in the Settings > Math anti-spam page in your WordPress control panel. For versions 1.0.5 and lower, all instructions for customization are found by editing the plugin file (in your WordPress control panel, go to Plugins > Edit Plugins).
Forum for Peter's Math Anti-Spam Image
| Forum/Topic | Started | Last post | Posts |
| --- | --- | --- | --- |
Note: this blog uses the Custom Anti-Spam version of this plugin. To see the Math Anti-Spam version of this plugin in action, check out theworkblog.ca.