First published on December 1, 2007
When I first started Peter's Useful Crap (this site), I wanted it to look like Plain 1.0, which was a nice CSS template but not yet a WordPress theme (and has since been removed from the site of the creator — Jay). Unfortunately, knowing little about WordPress or about CSS, my attempted hack didn't turn out so well (I mean, look at the mess that is theblog.ca).
A year and a half later, I've finally got something going on the theme and am offering it up for free under the name "Plainly". The real work was done by Jay, who created the original Plain 1.0 theme. This Plainly theme looks a lot better than my current site's theme…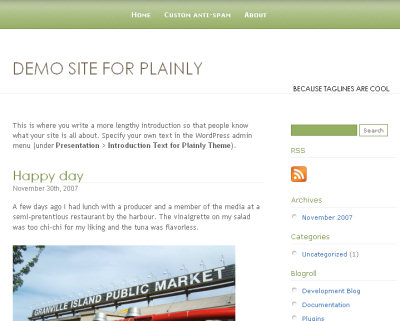 Plainly is not an exact port of Plain 1.0 and has a few modifications, of course. I used the WordPress Default Kubrick theme (the one that is displayed when you first install WordPress) as a base and included a few of my own design tweaks (like the way code snippets are displayed when you use the <pre> tag… which I stole from eZ Systems).
Without further ado…
Download the Plainly theme [December 19th, 2007]. Simply extract the zip file into the wp-content/themes/ directory, then activate it as you normally would in the WordPress admin panel (under the Presentation menu).
[December 19th, 2007: Added conditional statements for the tagging functions so that the plugin is compatible with pre-WordPress 2.3 blogs]
[December 1st, 2007: First version]
Update: this theme is now posted on wpthemesfree.com

(why is themes.wordpress.net always broken?)