First published on January 19, 2012
If you're allergic to cow milk or you are lactose intolerant, you find that there are many soy-based milk alternatives. However, if you're also allergic to soy or just scared of genetically-modified soybeans, it gets much more difficult depending on what type of food you're looking for and what nutrients you are trying to get. Yogurt is one such food. A relatively new discovery for me, So Delicious cultured coconut milk (aka yogurt), is worth checking out.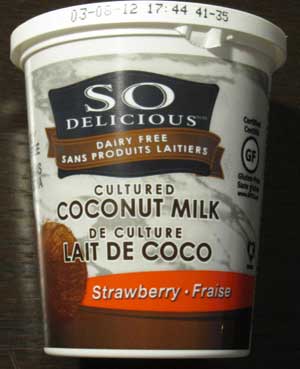 The main reasons why I enjoy(ed) cow milk yogurt is that it is a tasty snack, and that it is a good source of calcium. Coconut milk yogurt is tasty (although the coconut taste is definitely apparent) and high in calcium, without triggering the same type of digestion problems.
If you compare the nutrition label to a dairy-based yogurt, you'll find that they match up quite well, which was very likely a main intention of So Delicious. In the image below, the cow milk yogurt is on the left and the coconut milk yogurt is on the right.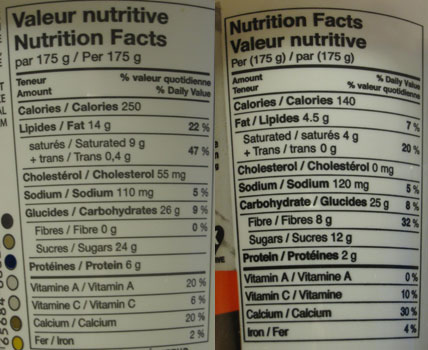 Note that it's not fair to directly compare the fat and sugar values in my example, since the cow milk yogurt example is Méditerranée Lemon Yogurt, which is purposely a thick, rich, and fat yogurt.
For those who are interested, here is the ingredient list for the strawberry variety of the So Delicious coconut milk yogurt:
coconut milk, chicory root extract, strawberries, dried cane syrup, rice starch, pectin, tapioca dextrose, nautral flavour, algin (kelp extract), magnesium phosphate, tricalcium phosphate, locust bean gum, live cultures, citric acid, carrot juice, guar gum, carrageenan, monk fruit extract

Live cultures: L. Bulgaricus, S. Thermophilus, L. Rhamnosus, L. Acidophilus, Bif Bifidum, Bif Animalis
In Metro Vancouver, I found the coconut milk yogurt at Choices Markets and Donald's Market in these flavours: blueberry, strawberry, vanilla, and plain.