First published on February 18, 2012
Connectify is a free program that enables you to create a wireless network from your computer. In other words, as long as you have a working Internet connection on a computer, and a wireless card, you can share that connection by creating your own ad hoc "hotspot". Connectify has been around for a few years now, and is becoming more widely useful as accessing the Internet while "on the go" becomes more and more common.
The two main uses I have for Connectify are:
Sharing my home wired-only network to a smart phone (since the smart phone can only connect wirelessly)
Sharing one Internet connection in a hotel or other public network with multiple devices.
When you run the Connectify application, the settings are straightforward and editable in a graphical user interface, and arguably much easier to work with than an actual router. It does exactly what you expect it to do, without the technical elements getting in the way.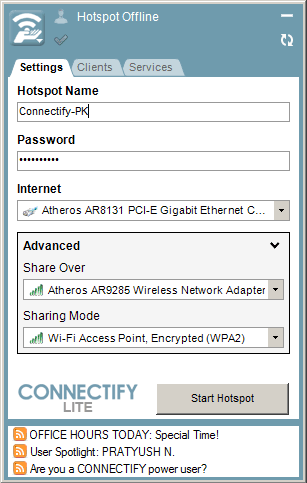 In short, the process is as follows:
Name the network
Choose the connection to share (such as your wired or wireless connection)
Choose the device to share it through (such as your wireless card)
Choose the encryption type and set the password.
Once you create your network, it will show up on the list of available networks of other devices just like any other network. From the source computer, you can see who is connected and disconnect them if necessary.
Browsing through the network set up through my laptop on another device is as reliable as the connection on the laptop. Performance-wise, I haven't done speed tests; browsing on other devices is slower than on the laptop, but is more than responsive enough for regular needs.
The free version of Connectify is more than adequate for most uses. There is also a paid, Pro version for about $30 that has some additional features such as: fully customizing the network name (SSID), sharing 3G connections, setting up fine-grained access configuration, and enhanced support.