First published on February 3, 2007
After I posted about php code for countdowns, a couple of people asked me to implement it into their WordPress installation. However, for ease of management of countdown items, I decided to simply make a WordPress plugin for it. I've seen a few similar plugins already available, but none of them seem to have a user-friendly management page.
Here's a screenshot of the management page in the WordPress admin section:
Here's a screenshot of the output in a sidebar: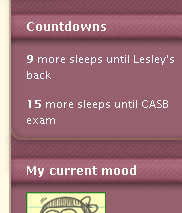 To install the plugin:
Unzip all files to a "peters-date-countdown" subdirectory in your WordPress plugin directory. The download link is below.
Activate it in the Plugins menu of your admin section. There are a few settings at the top of the plugin file to tweak several features (for example, you can enable the new JavaScript real-time countdown feature), so you should edit that as well.
Then, paste this code wherever you wish to display the countdowns:

<?php
countdown_callit();
?>

Starting from version 1.6 onwards, if you want to call a specific countdown, enter the number of the countdown item that you want to display in parentheses, such as this:

<?php
countdown_callit(3);
?>

If you want to put the countdowns on your sidebar, here's the code for most themes (paste this in sidebar.php):

<li>
<h2>Countdowns</h2>
<?php countdown_callit(); ?>
</li>

Alternatively, you can use the plugin as a WordPress widget (see the "Design… Widgets" page).
You can then add, delete, and update countdown items on the "Manage… Date Countdown" page of your admin section.
If you are upgrading, make sure that you do NOT overwrite datecountdowndates.php! Also, make sure that the files are placed in the folder "wp-content/plugins/peters-date-countdown"
Peter's Date Countdown Plugin for WordPress Version 2.0.0 -August 25, 2008: Finally combined the widget and non-widget versions of this plugin into one version.
Download site 1 | Download site 2
—————————-
Countdowns in use:
New support forum, which is better for organizing questions and comments:
| Forum/Topic | Started | Last post | Posts |
| --- | --- | --- | --- |