First published on July 3, 2010
As a guy, my shampoo needs are few. Shampoo should make my hair feel clean and not have any bad side effects.
For years, I'd been using shampoo like Herbal Essences and Garnier Fructis.

Most mainstream shampoos have the following characteristics:
relatively cheap
wide distribution, due to good business relationship with major grocery stores and drugstores
thick and frothy so you think your hair is getting clean
smells good
lots of marketing effort, so that even if you're a guy and the ads don't directly appeal to you, those brands of shampoo are top-of-mind
For years, I'd have some hair loss in the morning (as everybody does), and I'd had somewhat dry skin and a dry scalp. Although my hair is still as thick and plentiful as ever, I started to think that Garnier Fructis had been making my head itchier than it should be, and that the number of hairs falling out in the morning if I were to shake my hands through my hair was more than usual.
An inspection of the ingredient list shocked me: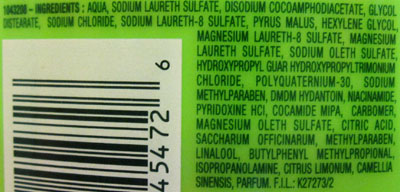 What are all of these long and complicated chemical names?
Sodium laureth sulfate, disodium cocoamphodiacetate, glycol distearate, sodium laureth-8 sulfate, pyrus malus, hexylene glycol… hydroxypropyl guar hydroxypropyltrimonium chloride, polyquaternium-30… dmdm hydantoin, niacinamide…
A quick Google search yielded some toxicity concerns. Now, I know that if we looked close enough, most products are bad for us in some way. But I figured, there must be less irritating shampoos with ingredients that are less mysterious.
I ended up trying Echoclean shampoo sold at Choices Markets.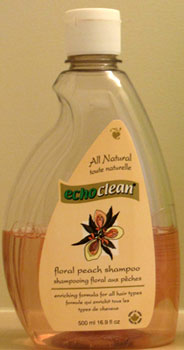 Echoclean is rather watery, doesn't foam as much, and is not even close to as thick as other shampoos I've used — that took some getting used to. It smells good, but not overwhelmingly amazing. The important thing is that my head and hair feel good after using it, my scalp doesn't feel dried out, and my hair isn't falling out so much in the morning. My hair feels clean, and I don't need a sensual smell experience or a lots of foaming to get that feeling.
The ingredient list is short and non-offensive: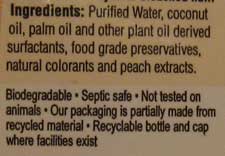 This list is mostly intended to create a good, natural shampoo rather than the illusion of a good shampoo:
purified water, coconut oil, palm oil and other plant oil derived surfactants, food grade preservatives, natural colorants, peach extracts
Echoclean's regular price for a 500mL bottle was about $6 (although it was on sale for $4), compared to Garnier Fructis' $4 regular price for a 384mL bottle. So even when comparing the normal prices, Echoclean isn't overly expensive, although I'm certainly willing to pay a small premium if it's better for my hair and potentially the environment (with its claims of "all-natural" and "biodegradable").
While I'm recommending Echoclean, it's not the only alternative shampoo solution. It's not available everywhere, it's not perfect, and its ingredient list could be more closely scrutinized. And you always have to beware of greenwashing. Compared to Garnier Fructis and similar shampoos, though, Echoclean is a comfortable step forward.
Start your quest for a happier scalp by looking for less shiny, less marketed shampoos that don't have such a crazy list of ingredients.
After a few months of using Echoclean, I decided to try Garnier Fructis again, just once. The itch, dandruff, and hair loss it produced was worse than before, presumably because my head had been enjoying its detoxified state for too long! Echoclean is my shampoo of choice for now!