First published on October 18, 2006
Simran, whose blog has introduced me to some cool scripts (such as Gallery and Nice titles), has devised a really handy Excel Flashcard Quizzer. All you need to do is fill in the word and definition columns on any subject, and poof, it'll generate on-screen flash cards that you can navigate through.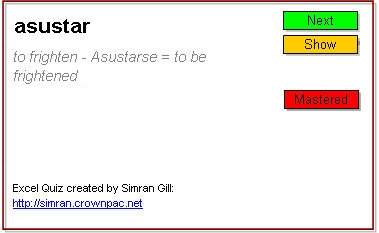 He touts this as being useful when learning any language… really though, it could be useful when learning anything that has definitions (well, anything that you might have made flash cards for).
Update: I've also been sent a link to another free flash card program: http://www.add-ins.com/flash-card-assistant.htm