First published on July 12, 2010
GoodNews.com Vancouver officially launches today. The basic concept is simple: every day, there is a local food, adventure, fitness, product, or service deal / coupon for sale for up to 50% to 90% off. A few more details include:
It makes use of group purchasing. Businesses can provide the deal because there's an expectation that there will be at least a certain number of people buying it. In fact, there is usually a minimum number of purchases needed to "activate" the deal. If the deal is not activated, no one is charged. However, I expect that word of GoodNews.com will spread quickly and that almost every posted deal will get activated.
It's time-limited, with a prominently displayed countdown until the deal is no longer available. A big reason for this is that it makes more people want to get in on the "limited time offer".
Once you've purchased the deal, you get a coupon to print and bring it in to the relevant establishment.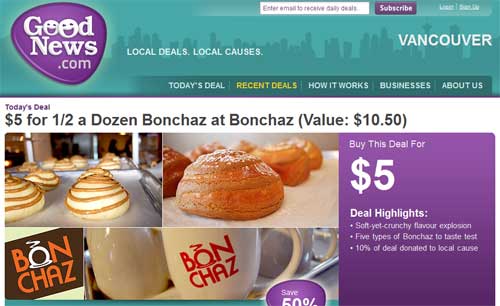 If this sounds like Groupon and other deal-of-the-day websites, it's because a lot of it is very similar. In fact, many of aspects of the GoodNews.com website follow the same model: playful descriptions of the featured businesses, savings percentages, communication methods (they want to e-mail, Twitter, and Facebook you often).
GoodNews.com is different in two ways. First of all, although they have expansion plans outside of Vancouver, they're from Vancouver. So they're local, and have a vested interest in supporting local business and a personal interest in seeking out cool deals in their own city.
Secondly, there's the charity aspect. A portion of every purchase (10% at the moment) made will be donated to a local cause — currently Big Brothers Vancouver — giving money to the cause and also some publicity. (In fact, they are also donating a dollar to Big Brothers for every e-mail subscription sign-up until July 23. This is a good reason to check out GoodNews.com, and you can always unsubscribe!) The next cause is going to be the Celebration of Light. Of course, you could view the charity aspect as just a smart business move: they're encouraging more people to buy the coupons because of the good cause. But at the end of the day, the charity or other local organization is getting some money that they otherwise wouldn't have, and in a pretty cool way too.
GoodNews.com has been running in "soft launch" mode for about a week already, so we can already see some examples of what's been featured: Hub Restaurant and Lounge, a jet ski or sea-doo rental, Piato Estiatoria, Regional Tasting Lounge, pilates, and Bonchaz. Technically there doesn't have to be only one deal per day, but it's a model that's worked and it gets the featured businesses and charities some prominent awareness. I wouldn't be surprised if down the road GoodNews.com finds a way to feature more than one business at a time. As for the types of deals available, you'll probably see restaurant and other food deals most often, but I know that GoodNews.com wants to offer a variety of deals and welcomes suggestions.
For most people, taking advantage of GoodNews.com every day is not going to save you money unless you already have a lot of money and thus already go out all the time. Don't get too caught up in chasing deals — remember that unlike coupon clipping, you actually have to purchase and commit to the deal before you use it! However, following their deals every day is a good way to find out new things about your own city! When you decide to purchase a deal, you're supporting a local business and a local cause, and probably trying something new.
GoodNews.com is owned by Reinvent, the company with a domain name empire. While I'm not big on pay-per-click domains, it's good to see them providing value to some of their domain names. And hopefully this means that GoodNews.com has the financial backing to become a solid business.
And a final green note — yes, it's a bit wasteful to have to print each coupon. For those with smart phones (not me!), I've heard that there will be an app in the future!