First published on December 1, 2013
I was going to be travelling to Vancouver Island for 1 month and needed a backup Internet service for work in case the power went out or the Internet connection was spotty. Since I don't have a smart phone data plan to tether to, I was looking for a mobile Internet USB stick. Bell ended up loaning me a hotspot / hub device for free. I just had to pay for the data plan, and the speed and reliability was great.
Since I only needed to use the device for 1 month, I was hoping to find a pay as you go plan. I first looked into Virgin Mobile, but apparently they don't sell Internet sticks or hubs anymore. Wind Mobile was an option, but "Wind AWAY" zones (basically, outside of major Canadian cities) are charged roaming data rates of $1 per MB.
I was resigned to paying a large amount with one of the bigger wireless companies — Telus, Rogers, or Bell. Bell was actually at the bottom of my list, but they were the first store in the mall I went to. I explained my situation to them and we looked at the devices that I could buy. Unexpectedly, the customer service representative suggested that they would rent me the store's mobile hub unit, a "4G LTE Sierra Wireless 763 Turbo Hotspot", at no cost. I just had to pay a deposit, sign up for a monthly data plan, and then immediately call to cancel so that I would have only 1 month of service. I was grateful for the offer and went with it.
The hub fits in your hand and works by taking the cellular signal and providing a normal wireless network (just like a standard router) that you can connect to with your computer or other device. It has a battery that lasts at least a few hours and can be charged via its AC adapter or via a computer's USB port.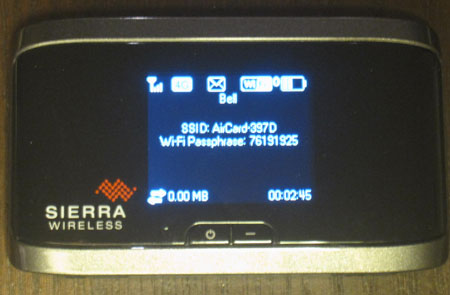 The Bell mobile data "flex" plan starts at $10/month for up to 100MB. Then the cost automatically increases if you go over 100MB: it's $30 for up to 500MB, $45 for up to 2GB, $70 for up to 6GB, and so on.
I ended up having reliable wired Internet on my trip, and there were no power outages. However, I did use the hub to make Skype calls in Crofton, BC (in a spot where Rogers and Wind phones had no signal), and I also used it on the entire ferry ride between Vancouver Island between Duke Point (Nanaimo) and Tsawwassen. Connection speed was up and down, but reliability was great — I never lost the connection. I ran a few speed tests at speedtest.net at different times and locations and got the following results:
HSPA network 0.46Mbps down, 0.54Mbps up
HSPA network: 5.6Mbps down, 1.81Mbps up
4G network: 15.2Mbps down, 7.2Mbps up