First published on July 4, 2011
Typically I think of SportChek first for hockey equipment needs in Metro Vancouver, due mostly to the number of locations they have. However, I've found their selection and service to be a bit lacking lately. I was recently looking for inline hockey pucks, specifically the red Pro Shot ones used by the PICH roller hockey league: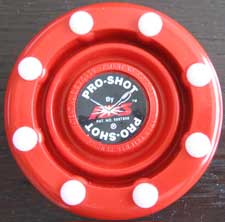 Of course, Sportchek didn't seem to have them. Here are two recommended stores (which also have online stores) to find roller hockey pucks:
The Hockey Shop in Surrey, just across from Surrey Central SkyTrain station. They had many different types of pucks. I can give a generally good review of The Hockey Shop — they seem to carry everything hockey, and have friendly, helpful staff. The particular type of puck I was looking for was cheaper here.
Cyclone Taylor Sports, which has a location in one of the Richmond roller hockey rinks.