First published on May 29, 2016
I decided to try the Scrub Daddy kitchen scrubber
, which became famous mostly through Shark Tank. It cost $6 at Bed, Bath, and Beyond — it's cheaper in bulk packs, but still at least 2-3 times the cost of normal kitchen scrubbers.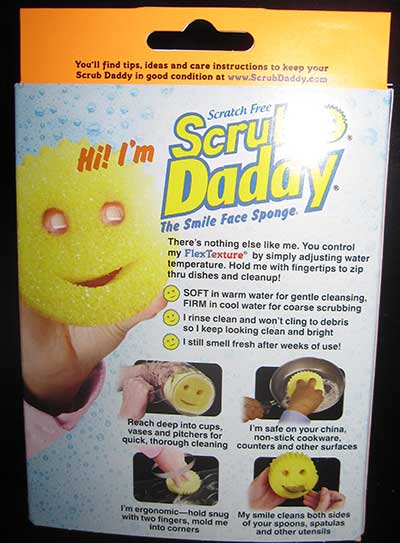 The Scrub Daddy is very good at scrubbing, and should not scratch most materials. Things don't generally stick to it, so it's easy to get the Scrub Daddy itself clean as well. However, I have 2 main problems with the Scrub Daddy:
1. It does not last long. After 2 weeks of normal, daily use on kitchen dishes, it started to fall apart. This is in contrast to a standard kitchen scrubber, which lasts for at least 1 month before I consider replacing it.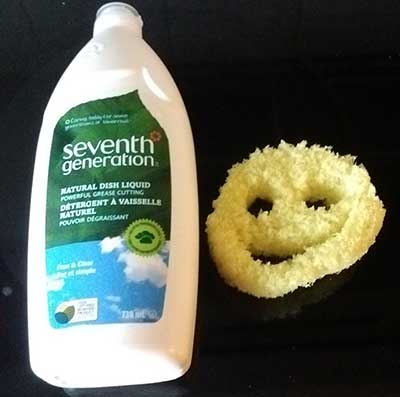 Once the Scrub Daddy starts disintegrating, little yellow pieces of the scrubber come off pretty much every time you touch it. While this deterioration happens to normal kitchen scrubbers and sponges, the rate at which the Scrub Daddy falls apart is significantly faster than any other scrubber I have used.
2. It does not hold soap well. This is probably a side effect of the Scrub Daddy's scrubbing effectiveness, but if you're used to putting soap onto your scrubber, you will probably find that you end up using much more soap with the Scrub Daddy.
When I Tweeted about Scrub Daddy's durability issues, I got a quick reply from them, suggesting that I contact their customer service. Customer service over e-mail was very friendly and prompt. Basically, they asked for more information about how I used and cared for the scrubber. My use was nothing out of the ordinary, and the care instructions for the Scrub Daddy are no different than any other scrubber. They kindly sent me another Scrub Daddy, suggesting that I should get better results than with the first one. However, I found the same disappointing durability as before. When I searched online for other reviews of the product, I found that most people have a similar experience. I was impressed by Scrub Daddy's customer service, although customer service is not something you expect to need for a kitchen scrubber.
In short, the Scrub Daddy is smiley, good at scrubbing, and a great success in marketing, but I cannot recommend it over a standard kitchen sponge. You could keep it on hand as a special-use scrubber for a small percentage of your dishes, but that seems like a lot of trouble, not to mention the cost!