First published on June 27, 2009
In an effort to help limit spam, many Internet service providers block all traffic to port 25 unless that traffic is directed at one of the service providers' servers. What this means to you is that if you use an e-mail client (as opposed to webmail) such as Outlook or Thunderbird, and are travelling and/or connected to a different network than you're used to, you might not be able to send e-mail.
In Thunderbird, you will see a error message similar to this:
"Sending of message failed. The message could not be sent because connecting to SMTP server smtp.gmail.com failed. The server may be unavailable or is refusing SMTP connections."
For the purposes of this post, think of an "SMTP server" as the outbound mail server.
There are two relatively simple ways around this.
You can configure your mail client to use your default SMTP server but on a different port. To do this, you'll have to know what alternative ports are available, and even in that case, the service provider might block that port too.
Or, you can configure your mail client to use the service provider's SMTP server. To do this in Thunderbird, first click the Tools menu, and select the Account Settings option. The left menu on the resulting window should show a list of your configured accounts, and at the very bottom of that menu there should be an "Outgoing Server (SMTP)" option. From there, you can add a new SMTP server: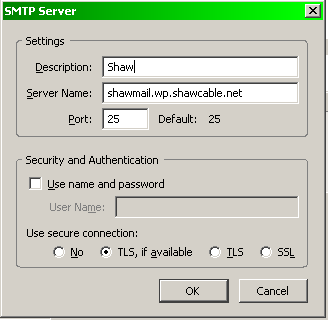 Usually you can do a Google search for "Telus SMTP server" (replacing "Telus" with the name of the Internet service provider that you are currently connected to). If you're connected to a public network but don't know what service provider you're using, try visiting a site such as this one. Here's a list of SMTP servers for the various networks that I've had to connect to recently:
| Service provider | SMTP server |
| --- | --- |
| Telus | mail.telus.net |
| Shaw | shawmail.wp.shawcable.net (replace "wp" with a two-letter code representing your nearest city) |
| Lightspeed | mail.lightspeed.ca |
| AT&T | smtp1.attglobal.net |
| DCCNet | mail.dccnet.com |
Once you've added a new SMTP server, set your mail client to use that one. In the left menu for the Account Settings window in Thunderbird, click on your account, then specify the SMTP server that you just added.