First published on November 16, 2008
The battle to ditch the throwaway plastic bag isn't easy. I keep cloth bags in my car and try to carry a backpack often, but I still find myself in situations where I need to carry several items and I don't have a cloth bag handy. Sometimes I walk to the grocery store and forget to bring a bag, or sometimes I simply make an unexpected purchase or borrow items from a friend unexpectedly.
Enter the Envirosax bag. I recently found some at the Vancouver Art Gallery gift shop. The concept is simple and I'm sure Envirosax isn't the only manufacturer: the bag is sturdy (made of polyester) and re-usable, and folds and rolls up into a bound package that fits in your pocket or purse.
The bag weighs less than 2 ounces, making it convenient to stash in strategic locations, so that you are more likely to have it on hand for those unexpected occasions.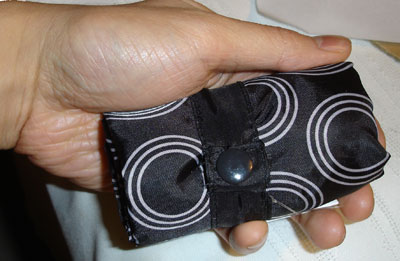 The bag holds quite a lot (reportedly over 40 pounds) and is larger than the average grocery store bag. For an idea of the size of the bag when in use, see this image I stole from the Envirosax website. (It seems a bit feminine, but it you're worried about that, it's not!)
The bag is a bit pricey at $8.99 + tax at the Vancouver Art Gallery, but I think it's worth it for its balance of environmental friendliness and convenience.
I don't know when a shopping bag became a good Christmas gift, but think about it…