First published on September 5, 2006
August 17th, 2007 update: looks like Choices doesn't stock it anymore… the search beings anew?

December 3rd, 2007 update: it really DOES exist! After a several-month search, I found Stash Irish Breakfast Tea at Choices Markets in New Westminster (Choices At The Crest): 8683 10th Avenue.
First, I e-mailed Stash through its website. In the reply, I was referred to I-D Foods in Coquitlam (135 Glacier Street), which I presume is the retail distributor (that's probably not the right term, but whatever). So I called up I-D Foods and got some of the best service I've ever received in my life. The woman from I-D Foods looked through the order database but couldn't immediately find the Irish Breakfast Tea variety. She took down my info and called me back the next morning… with a list of possible locations! Case closed!
—————————————
I'm always on the lookout for cheap apple juice (thinking of switiching from Sun-Rype to Allen's), cheap citrus flavour mouthwash (Life brand 1L sometimes on special for $1.60! Take that, Listerine!), wheat-free products (check Choices' Rice Bakery), strawberry-flavoured soy milk (try any snobby, posh grocery store), and Stash Irish Breakfast Tea. The problem is… the last item on that list apparently cannot be found in British Columbia (based on my research)! Grocery stores where I've looked:
Shopper's Drug Mart
Pharmasave
Save-On Foods
Safeway
Superstore / Extra Foods
London Drugs
Nester's Market
Choices Markets
Urban Fare
IGA
Buy-Low Foods
Therefore, if you are looking for it, don't waste your time at the above places. If you've found it somewhere, let me know where!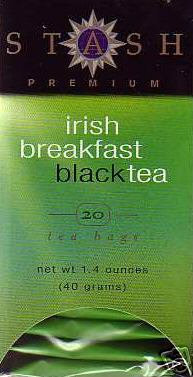 There's always this guy, who sells Stash Irish Breakfast Tea on eBay. And, there's a more accessible (albeit more expensive) Irish Breakfast Tea by Twinings, if brand isn't an issue for you.