First published on March 7, 2019
There is a never-ending and annoying supply of gadgets and widgets that solve every household problem, whether you knew you had the problem or not. The TubShroom is one of them. But it works, at least for me.
I was tired of my bathtub drain clogging what seemed like every couple of months. The shower started to pool fast, the water drained slowly, and I got a lovely soap scum ring in the tub. Sometimes the plunger did the trick, sometimes the drain snake / auger, and sometimes the dreaded Drano. Often they'd only work partially. Naturally I wondered whether there were issues with the pipes.
Thankfully, the success of the $15 (CAD) TubShroom proved that it was essentially just long hair from my family members, along with shampoo and soap bunching up. This is what the TubShroom looks like after about a week in the tub: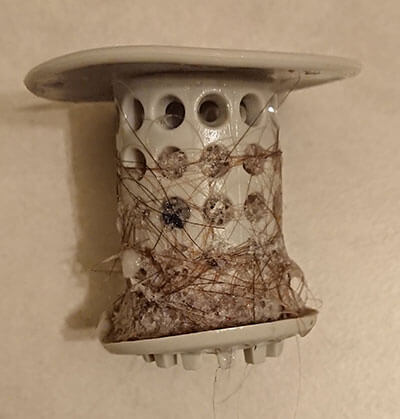 (Sorry, it's a bit gross, but if it didn't look so gross that would show that it doesn't work.)
I'm sure that it does not catch "every single hair, every single time" as it claims, but it catches tons of long hairs that would have otherwise caused a backup further down in the pipes. The TubShroom essentially causes a mini-backup every week or two, but it's so straightforward to remove all the gunk, and I would much rather do that then have a major backup that I cannot see or access.
Yes, a mesh strainer tries to do something similar, but when we had one, it never seemed to catch as much, nor was it as simple to clear out.
I can confirm that the TubShroom is easy to install. It's flexible yet sturdy enough since it's made of silicone. It fits right in to where my normal tub stopper is. Just make sure that you have a standard 1.5-inch drain. I cannot guarantee that it will work for you, but I can say that the TubShroom works very well for me and I can recommend it.