First published on February 5, 2010
TransLink, the Vancouver publish transit authority, has a nice "mobile site" at m.translink.ca. I use it frequently even though I don't own a web-enabled phone.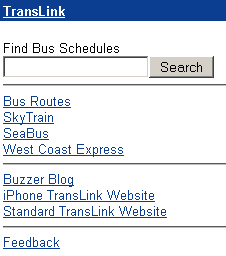 TransLink says the following about the mobile site:
TransLink's mobile information service – m.translink.ca – gives you quick and easy access to transit schedules, alerts, advisories and even the Buzzer blog – all via your mobile device!
The mobile site is also accessible from any device that is Internet-enabled and that uses a web browser, so there's no reason why you can't use it from a desktop computer or laptop!
If you're looking for the next bus times, first and last SkyTrain, SeaBus, and West Coast Express times, this is a much more efficient site than the main TransLink site. It addresses a few of the deficiencies of the main TransLink site, as the mobile site is:
Faster
Simpler
Provides bookmarkable URLs (so that you can return to find key routes or stops much quicker)
Now, the mobile site is not as fully featured as the main site, as it doesn't provide things like maps, full bus schedules (or schedules for specific times), and lots of other general information. (In particular, I think that bookmarkable HTML pages of full bus schedules would be really handy.) But consider it as the better alternative for day-to-day lookups and usage.
—————————————-
If you're a developer, consider experimenting with the unofficially documented TransLink API or the static full dump of route data. Update: TransLink no longer provides a public API