First published on March 15, 2007
Googling for recipes is dangerous. But sometimes I have to look outside my rookie cook book.
Being a salmon fanatic, I went searching for a good salmon recipe and found a basil salmon recipe worthy of trying.
Things were going OK… until I threw my chopped basil in. Maybe there's a difference between "chopped fresh basil" and the kind of basil that I used (see below), but a lesson for the other rookie cooks out there: don't ever throw in a cup of the package chopped basil unless you're cooking for a village. The moment I poured it in I knew something was wrong. Good thing I stopped because the recipe actually called for one and a half cups of basil. Even after removing oh… 80% of the basil, things were still very basil-ly.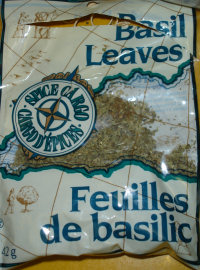 So… if you're looking for a good salmon recipe, try the one above! But use like two tablespoons or something if your basil package looks like mine.