First published on January 13, 2007
Oh chapstick… how ChapStick managed to achieve a Xerox-like genericized trademark is a feat in itself. But that's not what this post is about…
I've always had chapped lips (well, dry skin in general) but was only convinced to start using chapstick a few years ago. I've always used Blistex Complete Moisture (or whatever it's called) and it certainly helps my lips out. However, it costs a good $2.99, so being the cheapskate that I am, I was curious to see if there's a cheaper product that might work as well. After all, I find no difference between Life brand and Listerine mouthwash, or between no-name cereal and that of the Kellogg's or Post variety. I don't want to pay extra if the money just goes to fund advertising initiatives.
So I purchased this chapstick called Lypsyl from Mac's just a while ago for the wonderful price of $1.79. How I went through a week with that stuff is a feat in itself. Lypsyl might have made my lips worse. It actually feels a bit rough on application. I quickly came crying back to Blistex.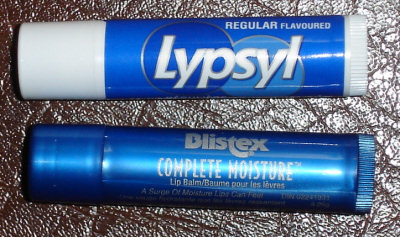 Is this an isolated Lypsyl incident? Is there something cheaper than but just as good as Blistex?