First published on January 13, 2007
I recently switched from Rogers Wireless Pay As You Go to 7-Eleven Speak Out Wireless. So far I've loved the 7-Eleven service, although I can't say I'll be loyal to them if an even better deal comes along.
At any rate, most cell phones have a timer to record the length of calls: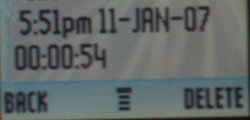 On my phone, the timer starts when the person on the other end picks up the phone. Recently I had a call that clocked in at 2:59 and 7-Eleven charged me for three minutes. This is great! After all, anything between 2:01 and 3:00 should be charged as a three-minute call.
However, I was using the same phone with my Rogers plan last year, and I know for sure that calls that came in at the 52-second, 54-second, 59-second marks were routinely being charged for the next minute as well. In other words, a 2:59 call would have been charged for four minutes. This leads me to believe that Rogers either has a wrongly-calibrated timer, or that it charges for ringing time.