First published on October 21, 2007
As I previously reported, I recently switched web hosts for this blog. Transferring files from a cPanel host to another cPanel host is easy as there is a built-in backup feature where you can transfer a backup file directly from the old server to the new server.
After transferring the backup file, I asked the tech support people at the new host to restore the backup. Poof — all my files, domain information, and e-mail addresses were there! The one problem was that my disk usage was three times the amount that it should have been. Of course, one of the causes for that was that the backup file was still sitting in the home folder for my user account. But after I deleted that file, the space taken up was still two times the proper amount (it should have been around 1400 M):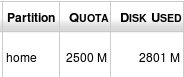 The Disk Usage Viewer page in cPanel showed the correct usage at about 1400 M, but of course the actual disk usage metre was showing 2801 M, way over my quota. This meant that the file in question was under my user account, but outside of my /home/myaccount folder (which was outside of my access permissions). The friendly tech support people told me to delete some ZIP and PDF files that were taking up all the space… needless to say, that wasn't very helpful.
After some repeated attempts to convince the tech support people to look again, they found the backup file in the /home/cprestore folder, which I'm guessing is the normal place to restore backups from.
Next time you are transferring cPanel hosts and need the host to restore a backup for you, tell them to delete the backup file from both your user's home folder and the /home/cprestore folder.