First published on June 16, 2006
I used to work for a school newsletter (actually, more like "donate unheard of amounts of unpaid time") and you know advertisers… they're always so last-minute! Last-minute ads are usually OK, unless they require modification, such as grayscaling! How in the world do you grayscale a PDF? I thought it'd be one of the most basic features to include in a terribly expensive program such as Adobe Acrobat, but no, it is nowhere to be found (September 10th update: read on… it actually does exist!). Technically, you can right click each item in Acrobat and "edit" it, but that's a real pain in the ass, and sometimes it messes up item placement. You could also save the PDF as an image file, grayscale it, then re-PDF it, but that compromises quality and file size, among other things.
Anyway, I asked around to all the graphics artists that I knew, and did all the Google and Google Groups searching that I could. The graphics people said that real artists do their grayscaling before creating a PDF. Well, I was dealing with a time-crunch here! As for Google, I found nothing (maybe my searching skills suck)!
————————
September 10th update:
Looks like there IS a feature built into Adobe Acrobat Professional (I just tested this on version 7.0)! There is no need to buy an extra, expensive piece of software as noted when I first made this post!
Select Tools… Print Production… Convert Colors…
Then, select one of the profiles that do grayscaling (such as one of the dot gains)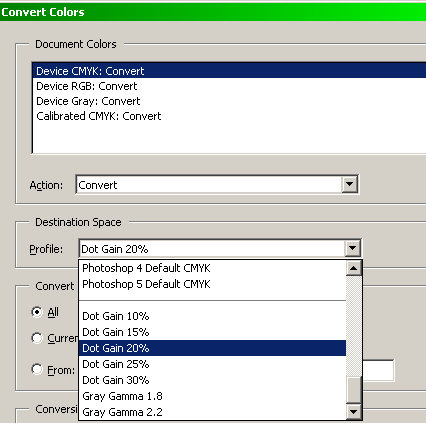 Based on a quick comparison, this already-built-in feature gives slightly worse quality than the Quite a Box of Tricks plugin that I mentioned below… but hey… free is better than not free.
————————
In the end, one of my CGA-Canada cronies (thank you, kind sir aka Mentos Man) discovered this program called Quite a Box Of Tricks. It's a plugin for Acrobat and works wonders. And by wonders, I mean it's the only solution I've ever found and it is fast and easy. The downside, unfortunately, is that it costs a freakin' 125 British pounds!
So, if you're reading this and want to create a free tool that will grayscale a PDF, please let me know so that I can update this post. Otherwise, Quite a Box of Tricks is all we've got!