First published on May 22, 2012
Granola bars are not something I typically think of as something to make at home, due to the plethora of granola bar variations available at grocery stores. But they are surprisingly easy to make, are arguably tastier, and do not contain soy lecithin, high fructose corn syrup, and other questionable ingredients. The recipe below is taken from allrecipes.com, with a few minor variations. I've found that it makes between 12 and 16 bars, and keeps well for at least a couple of weeks.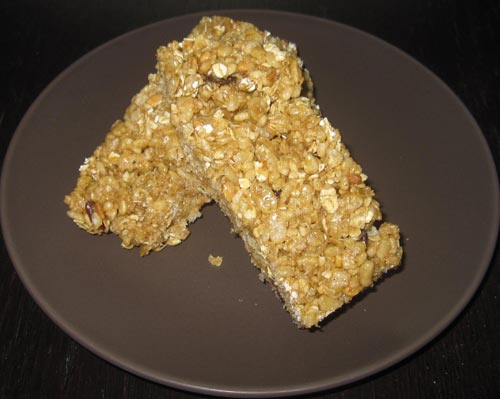 Ingredients
2 1/2 cups crispy rice cereal
2 cups quick-cooking oats
1/2 cup craisins (or raisins)
1/2 cup packed brown sugar
1/2 cup honey
1/2 cup crunchy peanut butter
1 teaspoon vanilla extract
Directions
In a large bowl, stir together the rice cereal, oats, and craisins. Set aside. Grease a 9×13 inch baking dish.
Combine the brown sugar and honey in a small saucepan over medium heat. Heat just until boiling, then remove from heat and stir in peanut butter and vanilla until smooth. Pour over the cereal and oat mixture, and mix well.
Press into the prepared pan using the back of a large spoon, a spatula, or your hands. Allow to cool, then cut into rectangles, squares, or whatever shape you want.