First published on December 1, 2012
The Huawei Ascend G312 is a so-called "middle of the road" smartphone that does what it is designed to do very well and provides good value.
Background
This review is written from the perspective of someone who wanted a smartphone in order to take advantage of various apps (French dictionary, weather, games), use a small amount of data, play some music, and be content with the phone's performance for at least a few years. It would be most often used for normal calls and text messaging. Battery life and reliability are important, and the phone needed to be intuitive. She was willing to spend a small amount to purchase the phone, but not several hundred dollars for one of the higher-end phones.
Her previous phone was an iPhone 3G, which in all fairness is 4 years old at the time of this review, but had always felt slow and never had good battery life.
Phone specifications
The Huawei Ascend G312 is currently available from Wind Mobile (released in October 2012) for $249 outright, $99 on the lower monthly plan ($25/month) and $0 on the higher monthly plan ($40/month).
Technical specifications of the phone are: 4 inch LCD screen, 1.4Ghz processor, 1gb RAM, 4gb of internal memory, and a 5.0 megapixel camera. The operating system is Android 4.0 aka "Ice Cream Sandwich".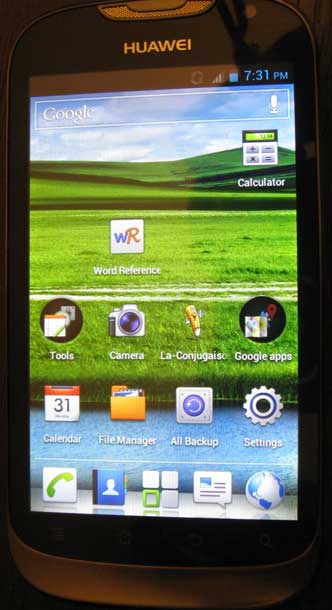 The Ascend G312 is also called the MyTouch on US-based T-Mobile, although that phone had Android 2.3 aka "Gingerbread".
Form factor
The phone is comparable to other smartphones in terms of size and weight. The back cover is more "grippy" compared to the Huawei Ascend P1.
One advantage of the Ascend G312 is that the back cover comes off very easily, so you can easily swap out the battery, the normal-size SIM card, and add a microSD card to add more storage.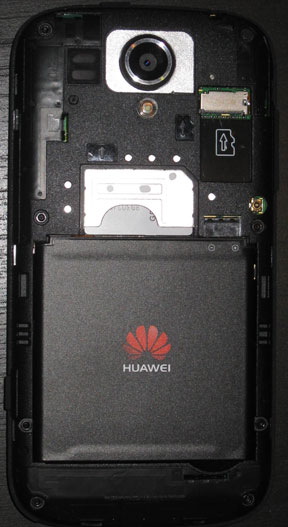 The screen is more than clear enough. Reportedly, there is no anti-scratch coating, so you might want to buy a case or apply some other type of protection if you will be carrying it alongside keys for example.
Performance
Battery life is better than expected. On normal, non-heavy data usage, it needs to be charged only about every 3 days. Continuous talk and/or data usage would cause it to last only 1 day or less, although we have not specifically tested this.
The camera is adequate; the photos appear somewhat washed out and you certainly wouldn't call it close to print quality. However, it is good for ad hoc usage, capturing text detail quite well.
If you think that Apple's iOS provides a good user experience, the Android is arguably as good or better. The Android operating system is intuitive for all basic tasks, as well as app settings and management. Texting is accurate and the spell-check functionality is useful. As well, many features considered "extra" not too long ago are now the norm, such as a flash light, GPS and mapping, and FM radio.
Data speed is not what you would call good, but it is not painful. The speed of actual rendering of pages and app screens is good.
Side note: Migrating contacts from an iPhone
Transferring contacts from the iPhone 3G was not easy. The iPhone has no copy-contacts-to-SIM functionality except if it has been "jailbroken", at which point you can use an app such as "SIManager". You might have to manually re-create your contacts.
Comparison to other smartphones
Compared to the Huawei Ascend P1 and Huawei Ascend D1, the G312 is quite a bit cheaper but might pack more value. For example, the G312 only has a single-core processor, whereas the P1 has a dual-core processor and the D1 has a quad-core processor. For basic tasks, however, there is no noticeable difference in performance, except that the D1 is slightly "snappier" when swiping through screens (which might not matter in practice!). In theory, if you are multi-tasking on your phone or watching a high definition movie you might notice a difference. In practical terms, the G312's specifications are still powerful.
If you don't need to be on the cutting edge of technology, the G312 still provides more than the basics. The G312 has no NFC or LTE capabilities, but if you don't know what those acronyms mean, you won't be missing out on anything.
The Huawei Ascend G312 met all of the important criteria for a non-technical user who still wanted the features of a smartphone, and we would recommend it!