First published on September 29, 2008
Lost amidst the arguably over-hyped Apple product releases this year was the launch of video rentals and sales through the iTunes Canada Store in summer 2008. I recently discovered this, and will share some thoughts and experiences with the rental service (the buying part doesn't really interest me).
Why online movie rentals?
I've always wanted some sort of movie download rental service. Traditional retail stores (like Rogers Video), movies-by-mail services (like Zip.ca), and self-service kiosks (like Quickflick) all have their uses. However, downloading offers the following benefits:
No transportation costs
Freedom from having to physically return the movie
The online store cannot "run out" of movies if many people rent them
Freedom from physical media waste (i.e. no non-recyclable DVDs)
Although you can of course download movies for free using peer-to-peer clients such as µTorrent, that was a bit too guilt-inducing for me. Also, the speed for such methods often leaves something to be desired.
For a short while now, there has been enough infrastructure and bandwidth, as well as the proper digital formats and media convergence, to make a legitimate operation happen. I never thought I'd consider Apple as the pioneer for this in Canada, but I must say, they've done a pretty good job.
How to rent from iTunes
First of all, you need to install iTunes, which is available for Windows or Mac. Note that you don't actually need an Apple device like an iPod or iPhone to explore iTunes.
Once you are in the iTunes program, you can click on the link to the iTunes Store, where you can search for and browse movies. You will have to register for an account and provide your credit card information — this takes about two minutes.
On the description page for a movie, you will find buttons for renting (if available) and buying the movie.
Once you confirm the rental, your credit card is charged and the download process starts immediately. I was impressed by the speed of the download, as the 1.32gb file downloaded in less than 40 minutes on my cable Internet connection.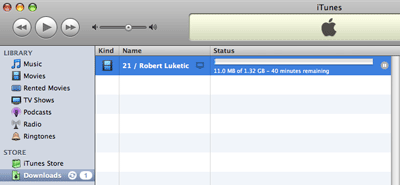 Given that the movie I chose was about 2 hours long and the download process was going to take less than half of that time, I was able to start watching the movie immediately. This meant that the overall process from signing up to watching the movie took about 5 minutes (not counting the time it took to choose a movie). Subsequent rental acquisition times would presumably be less than a minute from when I choose the movie.
The movie was then available in my list of rented movies. From the time you first play the movie, you have 48 hours to watch it as many times as you want. Once the rental period is over, the movie is automatically removed from your system. Also, if you don't want to watch the movie immediately, you supposedly have 30 days to begin watching the movie.

Although Apple tied the iTunes movie store release to its Apple TV product, you do not need that device to play the movies. Quality-wise, the movie played great on a 20-inch iMac.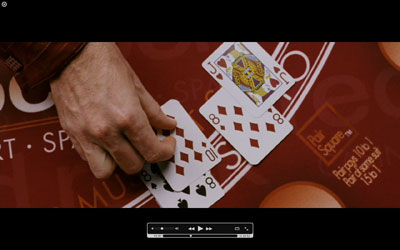 (It's true, the small screenshot doesn't show much, but trust me, the movie looked good in full-screen view!)
You can watch the movie on your computer screen, or you can hook your computer up to a TV (via S-Video out, DVI out or whatever you have), or you can watch it on a small, portable media product made by Apple (iPod, iPhone, etc.). The latter option brings up the vendor lock-in issue, but is only an issue if you want to take your movies with you.
Selection and pricing
From what I can see, most movies cost either $4.99 or $3.99, tax (surprisingly) included, to rent (the movie 21 that I rented was $4.99). Most movies were $19.99 to buy. The rental fee is comparable to a retail store. I would have thought it would be slightly cheaper, but it's not a deal breaker for me.
Comparing the movie releases on iTunes to Rogers Video's new releases, most, if not all of the popular releases are available on iTunes. However, while these movies are available immediately to buy, most of them cannot be rented until 3 to 4 weeks afterwards! Although I don't wait eagerly for every new release, this might be an annoyance for those who do.
As for older movies, iTunes has a decent selection but it currently doesn't even come close to a traditional video store in terms of titles available. But, of course, there's little commitment in browsing the iTunes Store online before heading out

—————————————
Renting movies through the iTunes Canada Store is quite a smooth process. I am impressed by its polish and surprised that it was launched relatively quietly. If the pricing and playing options work for you, it is definitely worth a try!