First published on January 18, 2009
On WordPress-powered sites, by default the home page shows the latest blog posts. However, on some WordPress sites you might want to show a different page on the main page (at yoursite.com), and show the latest posts on a separate page (like yoursite.com/news). I've been asked a few times how to do this, so here's how.
First, consider that behind every view on a WordPress site is a template. A simplified way of thinking about this is that the home page (which isn't an actual "page" in the WordPress "post" / "page" system) loads the index.php template in your theme; a blog post loads the single.php template; and a static page loads the page.php template. With one of a few plugins, you can use different templates for specific posts; as for pages, WordPress has built-in support for page-specific templates: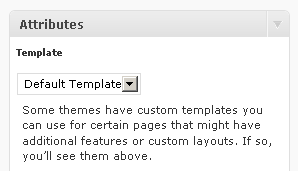 Typically, the code in the index.php template contains The Loop for the number of posts configured in "Settings" > "Reading" > "Blog pages show at most". This is what produces the home page of latest posts.
To transport the display of the latest / current posts outside of the home page, first create a specific page (called something like "News" or "Blog" or whatever's appropriate for your needs) that will display the blog posts. This page can be empty.
Then, you can do one of two things. The more difficult way to do things is to transport the code for "The Loop" into a new page template, and set the "News" or "Blog" page that you created to use that template. Note, however, that "The Loop" is fed posts on the home page, but it is fed a single page on other pages. To feed it posts for use on a page, you must call query_posts directly before the loop. For example, to show the latest 5 posts:

  <?php query_posts('show_posts=5'); ?>
  <?php if (have_posts()) : while (have_posts()) : the_post(); ?>
  <?php // and so on with The Loop as normal... ?>

Then you would hard-code the index.php template to load whatever custom home page you want.
The simpler, built-in way to do things is to go to the "Settings" > "Reading" admin page:

Typically, the "front page displays" option is set to "Your latest posts". However, you can configure it so that you have a custom page for the main / home / front page, and then assign the latest posts to another page. In the settings in the screenshot above, this means that the home page will load the template for the page named "Front" (this would be the page.php template unless a specific template was configured); while the "News" page will load the index.php template, which typically contains "The Loop" of latest posts.