First published on April 1, 2007
I took French immersion up until grade 12, but I'm quite the number of years removed from the days of daily French conversation. In other words, I am slowly becoming uni-lingual.
So, what better thing to occupy my (many) hours on transit than some French learning audio tapes! In this day and age, we're all about mp3s, so armed with a search engine and a cheapo mp3 player from eBay, I was off in search of some good French audio tuition in mp3! Unfortunately, all the free classes I found were much too basic and didn't really cover much (nothing wrong with that, but just not for me).
Luckily I eventually stumbled upon FrenchPodClass! FrenchPodClass is a weekly series of downloadable mp3 French lessons. I've already gone through a few lessons and they're fun and free. (Side note: the term "podcast" simply refers to an mp3 file.)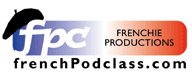 Each class is usually between 25 and 35 minutes. There are skits, vocabulary and grammar lessons, musical interludes (I've already got "Si j'avais un marteau" stuck in my head), games, movie reviews, and all sorts of fun stuff. As of April 1st, there have been 75 lessons already. I started at lesson #50; having taken French immersion, there's enough new stuff / stuff I've forgotten to keep me interested but it's not too advanced to turn me away. Sebastien, the creator of FrenchPodClass has a very friendly delivery, and does not seem to go through each class's material too fast or too slow. And if he did, hey, you can just rewind and play it again. For the real keeners, there are even transcripts, lesson reviews, and exercises to download.
Here's my lesson for you (that I stole from FrenchPodClass hehehe): "Ca coute les yeux de la tete" is the French equivalent of "It costs an arm and a leg". For FrenchPodClass all you need is an mp3 player (on a computer or portable) and a willingness to learn and have fun!
So, check out FrenchPodClass, start at the beginning or in the middle, and hopefully no matter what learning level you're at, there'll be something for you! I hope that Sebastien continues to produce such high quality lessons (and thanks for creating FrenchPodClass)!