First published on March 30, 2016
I was recently travelling out of Vancouver with a baby and a car seat and figured that parking at the airport would be relatively convenient and cheap. The main long-term parking options appeared to be jetSet and Park'N Fly, and I decided to try out Park'N Fly based on a recommendation.
I was impressed at how straightforward and convenient Park'N Fly is. It's on Miller Road about 5 minutes away from the terminal. When you drop off your car, you just park next to the lot's "lobby" and leave your keys in the car. You go in and register, then take a shuttle that runs about every 15 minutes to the terminals. Someone at Park'N Fly parks your car somewhere in the lot. There is an Air Canada check-in counter at the parking lot if you need it.
I didn't end up taking all the bags and passengers on the shuttle — I dropped them off at the airport first — although it seemed like there would have been plenty of room to do so.
You can get a cheaper price than the walk-up price at Park'N Fly if you pre-book online, and also if you have one of various memberships, such as BCAA or BCTF. You can also earn Aeroplan points.
When I registered the car at check-in, I was sent a text message from Park'N Fly. When I returned back to YVR, I replied to the text message once I'd landed, which presumably triggered someone at the lot to get my car.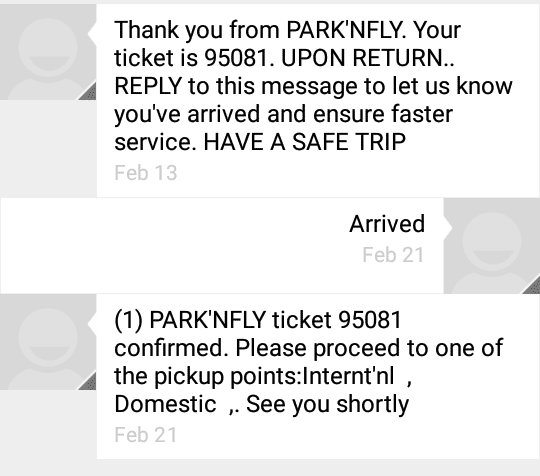 After taking the shuttle from just outside the terminal back to the Park'N Fly lot, I paid at a self-serve kiosk and picked up my car, which was waiting once again just outside the lobby.
Since the lot is a few minutes away from the terminals and you might have to wait for the shuttle (I got lucky as it was already there both times) you should probably plan up to an additional 30 minutes to the start and end of your trip. However, I found Park'N Fly about as convenient as it could have been given the circumstances!