First published on November 20, 2009
Canadian consumers often complain about hidden non-governmental fees such as system access fees in cell phone plans and airplane ticket surcharges. Ticketmaster takes the trick of false advertising one step further with the non-disclosure of its order processing fee.
If you've purchased tickets from Ticketmaster before, you might already be familiar with its facility charge and convenience charge. These are silly enough, especially after you read the explanations for those fees. And one theory states that Ticketmaster is happy to take the blame for the fees as it's the easiest way for both Ticketmaster and the artist or event organizer to charge the actual, higher, final fee. But at least Ticketmaster discloses these charges in the first step of the order process (this example happens to be exempt of a facility charge):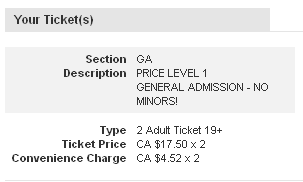 When you get to the billing step, however, Ticketmaster tacks on the order processing fee. This fee is described as covering "the cost to fulfill your ticket request when you purchase the tickets online or by phone".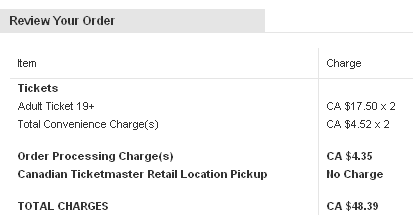 Steps 1 and 2 of the Ticketmaster online order process both occur… online. This means that you are going to pay the order processing fee if you order online, no matter what other options (such as shipping method) you pick. Remember what step 1 is hiding from you.