First published on September 8, 2008
With the release of WordPress 2.6.2 came a new filter for the "redirect to" address. For the non-technical folk, this means that you can specify different landing pages for different users after they log in. For example, you might have built a custom page for editors with custom news, edit links, and other special information. You can thus redirect them to that URL instead of the default WordPress dashboard.
I started to work on using such a feature previously but WordPress 2.6.2 makes the functionality a lot cleaner. Therefore, I've built a plugin that lets you redirect users based on their usernames, roles, and levels and capabilities (in that order).
Once you've uploaded and enabled the plugin, you use a management page under Settings > Login/logout redirects to manage the redirect rules: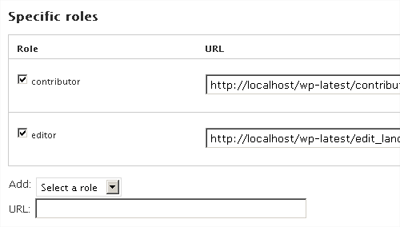 In addition to the user-, role-, and level-based rules, you can also define a "catch-all" redirect URL for all other users for which the rules don't match. You can also define a post-registration redirect URL. Note that WordPress does not allow you to redirect to external sites by default. (In other words, if your site is yoursite.com, you can redirect to yoursite.com/custom_page.php but not to theblog.ca.) Starting in version 1.7.0 of the plugin, there is a setting $rul_local_only in the plugin file itself that will disable this limitation (and does so by default). To add domains to the "allowed redirect" list in WordPress, use a plugin similar to this.
There is also a feature to configure a custom logout URL.
Need functionality to redirect users on first login? See the documentation in "How to Extend" in the readme.txt file, or use the standalone functionality.
Need functionality to redirect users based on an IP address, or based on custom login? See the documentation in "How to Extend" in the readme.txt file for examples on how to extend the plugin.
Need functionality to redirect users back to the same page where they logged in from? See this comment for ideas.
Download Peter's Login Redirect Version 2.9.2 (Make sure you have WordPress 3.2.0 or higher!)
Troubleshooting
Login redirects not working? This plugin uses WordPress's standard login_redirect hook. The usual cause of problems is that another plugin is using the hook first, or there is a custom login form that isn't even running through the standard WordPress login functions.
These threads might be useful:
Also see the instructions at the bottom of the settings on the "Settings > Login/logout redirects" page in the WordPress admin panel that says:
"Use external redirect file. Set this to "Yes" if you are using a plugin such as Gigya that bypasses the regular WordPress redirect process (and allows only one fixed redirect URL). Then, set the redirect URL in the other plugin to
http://www.yoursite.com/wp-content/plugins/peters-login-redirect/wplogin_redirect_control.php"
Version history
2.9.2: Add CSRF protection (thanks RIPS!). Fixed translations for "username" variable instruction (thanks Jaime!).
2.9.1: Support utf8mb4 encoding and prevent cross-site scripting when editing redirect URLs.
2.9.0: Update translation text domain in order to support translate.wordpress.org translation system.
2.8.3: Add new URL variable "userslug" to match author URLs.
2.8.2: Translation string fix.
2.8.1: Support the deletion of rules referencing deleted user, roles, or levels.
2.8.0: Improved management interface to add specific Edit and Delete buttons per rule, and removed limit around number of rules.
2.7.2: Support PHP 5 static function calls, bumping WordPress requirement to 3.2+.
2.7.1: Bug fix: Role-based login URLs weren't saving correctly.
2.7.0: Add logout redirect URL control per-user, per-role, and per-level.
2.6.1: Allow editors to manage redirects in WordPress 3.5+ (required capability is now "manage_categories" instead of "manage_links").
2.6.0: Added support for URL variable "http_referer" (note the single "r") to redirect the user back to the page that hosted the login form, as long as the login page isn't the standard wp-login.php. There are several caveats to this, such as: If you want to redirect only on certain forms and/or specify a redirect on the standard wp-login.php page, you should modify the form itself to use a "redirect_to" form variable instead.
2.5.3: Bug fix: Fallback redirect rule wouldn't update properly if logout URL was blank on MySQL installs with strict mode enabled (thanks kvandekrol!)
2.5.2: Bug fix: Fallback redirect rule updates were broken for non-English installs.
2.5.1: Bug fix: Redirect after registration back-end code was missed in 2.5.0, and thus that feature wasn't actually working.
2.5.0: Added redirect after registration option. Also made plugin settings editable in the WordPress admin panel.
2.4.0: Added support for URL variable "postid-23″. Also added documentation on how to set up redirect on first login.
2.3.0: Added support for URL variable "siteurl" and "homeurl". Also added filter to support custom replacement variables in the URL. See readme.txt for documentation.
2.2.0: Support basic custom logout redirect URL for all users only. Future versions will have the same framework for logout redirects as for login redirects.
2.1.1: Minor code cleanup. Note: users now need "manage_links" permissions to edit redirect settings by default.
2.1.0: Added hooks to facilitate adding your own extensions to the plugin. See readme.txt for documentation.
2.0.0: Added option to allow a redirect_to POST or GET variable to take precedence over this plugin's rules.
1.9.3: Made plugin translatable (Thanks Anja!)
1.9.2: Bug fix in code syntax.
1.9.1: Bug fix for putting the username in the redirect URL.
1.9.0: Added support for a separate redirect controller URL for compatibility with Gigya and similar plugins that bypass the regular WordPress login redirect mechanism. See the $rul_use_redirect_controller setting within this plugin.
1.8.1: Added proper encoding of username in the redirect URL if the username has spaces.
1.8.0: Added the ability to specify a username in the redirect URL for more dynamic URL generation.
1.7.3: Minor tweak on settings page for better compatibility with different WordPress URL setups.
1.7.2: Plugin now removes its database tables when it is uninstalled, instead of when it is deactivated. This prevents the redirect rules from being deleted when upgrading WordPress automatically.
1.7.1: Minor database compatibility tweak. (Thanks KCP!)
1.7.0: Added option $rul_local_only (in the plugin file itself) to bypass the WordPress default limitation of only redirecting to local URLs.
1.6.1: Minor database table tweak for better compatibility with different setups. (Thanks David!)
1.6.0: Added a function rul_register that acts the same as the wp_register function you see in templates, except that it will return the custom defined admin address.
1.5.1: Fixed compatibility for sites with a different table prefix setting in wp-config.php. (Thanks Eric!)
1.5: GUI for WordPress 2.6.2 and higher
Troubleshooting
If the MySQL user on your WordPress blog doesn't have the necessary CREATE TABLE privileges to install the plugin, you can look in the plugin file for the CREATE TABLE SQL code and manually insert it into the database using something like phpMyAdmin (ask your web host about that if you're not sure what that means.