First published on April 3, 2010
After 5.5 years of working daily with my previous laptop (an incarnation of the HP DV1000 series, the HP DV1303a) and performing several hardware upgrades on it, it started spontaneously shutting off in the middle of preparation for a site launch. While I still intend on trying to get the laptop repaired, I decided to buy a new laptop for daily use: the ASUS UL80VT-A1.
In a nutshell, I chose this laptop for its balance between portability and performance. It also comes with some unique, useful features. I am quite happy with this new machine so far. Here is my review.
If you do a web search for "UL80VT review" you will get quite a lot of useful reviews, but they're mostly from techies who try out the laptop for a day, run a bunch of performance tests (which aren't very useful for most people), and then write the review and move on. Hopefully I can contribute to the "average joe heavy user" review pool.
I use my laptop for business (full-time) and personal use. Tasks include writing web development code, running test websites locally (on quite a beast of a content management system called eZ Publish), e-mailing, web browsing, editing spreadsheets and word documents, photo editing, making phone calls, and watching YouTube videos.
(As a side note, realistically, any non-netbook computer made in the last 5 years should easily handle those tasks. The only thing my previous laptop had started to struggle with was streaming the new high-definition YouTube videos.)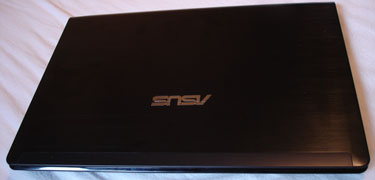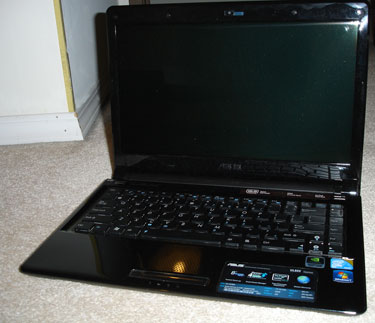 UL80VT Positives
Portability
I like the 14-inch size as providing the right balance between a fully featured computer and being portable.
As advertised, the Asus UL80VT does last between 10-12+ hours when simply browsing the Internet or working with Office documents. I ran it on battery while doing a lot of local website testing (forcing the computer to general complex pages from a content management system) and using Skype for several lengthy voice calls and it lasted for about 6.5 hours.
The Asus UL80VT is quite thin (just over an inch thick) and is very comfortable to pack and carry around. The notebook weighs less than 5 pounds with its extended life battery, and its power adapter even feels quite light.
Performance
The laptop runs Windows 7 with a Core 2 Duo 64-bit 1.3 Ghz low-voltage processor (model number SU7300) and 4gb of RAM. It comes with a very useful program called Power4Gear Hybrid, which lets you control processor speed, screen brightness, and other power settings.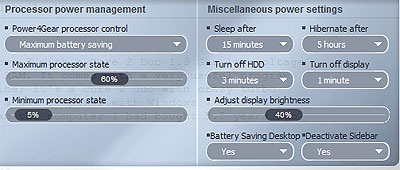 You can even run the processor at 1.73 Ghz, which ASUS touts as "Turbo 33″ (basically, user-friendly, tested overclocking). This works quite well, although for my use I've found the default processor speed to be quite snappy. Programs in Windows 7 load fast, and full-screen high-definition video plays fine.
Miscellaneous hardware
Even when purchased in Canada, the Asus UL80VT comes with a normal-size US-layout keyboard (as opposed to a bilingual keyboard with half-size Shift and Enter keys, among other things). The keys are of the chiclet variety, and are easy to type on.
All ports are on the sides of the laptop, with nothing at the back or the front. It comes with a CD / DVD optical drive, which still comes in handy on a regular basis. There are 3 USB ports (the maximum number of ports that I ever use at once), a Flash media card reader, and VGA and HDMI out ports. It has standard, separate mic-in and headphones-out jacks. It might be surprising to some people that quite a few smaller laptops these days come with a single mic + headphones jack — carrying around an adapter for this can be a minor annoyance.
Left side:

Right side:

It also has an integrated webcam and mic like most new laptops. Both are of decent quality.
The AC adapter comes with an angled support piece directly near the plug for the laptop.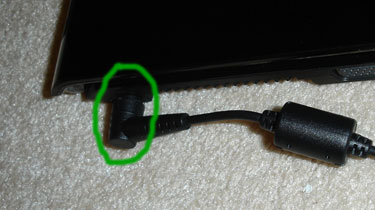 This is a bit hard to explain, but my previous laptop had a straight wire into the laptop, which made it more susceptible to becoming bent and wearing out.
The screen size and quality are more than adequate, and comfortable to look at for extended periods of time.
The hard drive and RAM are in physically separate compartments at the bottom of the machine and are easy to get at should they need to be upgraded or replaced.
Noise and heat, or lack thereof
The Asus UL80VT is quiet. I never hear the hard drive, and when the fan is on, it is very quiet. It is well-ventilated out the side, and no area on the computer ever feels more than lukewarm.
Fast-boot alternative
Although a rather fully-featured Windows 7 install boots in less than one minute, this laptop include an alternative power button that loads a simplified operating system called Splashtop in an advertised 8 seconds. And it really is 8 seconds. ASUS calls this functionality "Express Gate". It includes, among other things, a web browser, Skype, and an instant messaging client. This quick-boot system is very handy (at least for those who don't have smartphones) if you're headed out the door and forgot to look something up or send a quick e-mail to someone.
UL80VT Negatives
Touchpad
The touchpad itself is sizable enough and easy to use, but the left- and right-click buttons (which are on the same button) are quite stiff and a bit noisy. Extended use of the buttons can become uncomfortable. Thankfully when I don't have a mouse I can tap the touchpad for left-button clicks. There's no alternative to right-button clicks.
Some people might like the support for multi-touch finger gestures. I don't care much for them or use them.
Bloatware
The pre-installed Windows 7 system comes with a lot of unnecessary software courtesy of ASUS. This software includes trial games and some useless software utilities mixed in amongst useful utilities such as Power4Gear Hybrid for laptop performance / power management. It was a waste of time to have to sift through which programs to uninstall. I would suggest consulting guides such as this one which tell you what each of the included programs do.
No Windows 7 disc(s)
This might be the norm for laptops these days, but the ASUS UL80VT doesn't ship with a Windows 7 installation disc, and you have to supply 4 writable DVDs to create a recovery disc.
Troubleshooting
I had an issues where the Asus UL80VT would sometimes fail to hibernate, and sometimes on reboot sound would be disabled and/or the screen resolution wouldn't go higher than 1024×768 and/or it wouldn't recognize a second monitor. Updating the BIOS fixed the issue. To update the BIOS, first download the latest BIOS file from the product page. Then, extract the file, which will be named something like UL80VT.214, to the root of any drive. Then, reboot your computer and hit F4 on your keyboard when the Asus logo first appears. This should bring up the EasyFlash utility, where you can select the BIOS file and "flash" the BIOS to update it with that file.
Other UL80VT considerations
The regular price is between $900 and $950. Its feature set is unique, so it is difficult to do an apples-to-apples comparison. It is about $100 more expensive than other decent mainstream retail laptops that I've seen, but a couple of hundred dollars cheaper than the truly high-performing, highly portable laptops.
The ASUS UL80VT has an integrated graphics card (for normal use) and a dedicated graphics card (for heavy graphics activities like gaming and 3D modelling). You can switch between these cards on-the-fly. This is cool, but not useful for me except on very rare occasions.
The build quality seems quite nice. The surfaces are smooth and seem sturdy, although there is some squeaking if you push down on the areas directly to the right and left of the touchpad's button.
The speaker sound isn't quite as good as my previous HP laptop. The sound is a bit tinny, but it doesn't really bother me.
There were two semi-useful hardware features on my previous HP laptop that this laptop doesn't have: a second headphone jack and Lightscribe disc support
A general Windows 7 consideration: One day I'll learn to use the Windows 7 Start menu, with its non-expanding menu items. In the meantime, this program works perfectly in restoring the classic Start menu behavior.
It's nice that ASUS laptops come with a two-year warranty — including a one-year accidental damage warranty — for which you can register for free online. But this means that you have to ship your laptop away to be repaired, which I hope I won't have to do.