First published on April 8, 2009
It's bad enough that many printers force you to replace ink cartridges well before they are empty.
Since we purchased the Brother 685CW inkjet printer, we have printed almost exclusively in grayscale or black and white. But when the black cartridge ran out, the printer reported that the yellow, cyan, and magenta cartridges were empty as well. That was hard to believe, and it defeats the purpose of having individual ink cartridges. At any rate, we figured we would replace the black cartridge and abstain from printing in colour.
Sadly, the printer refused to print in black and white until it received new colour cartridges. Well, if that's the case we should really find a more reasonable printer. It's an inconvenient and costly situation.
Thankfully, as suggested in someone's comment on amazon.com, there is a solution that doesn't involve getting a different printer or unnecessarily buying more ink. After placing a piece of electrical tape over a "window" on each colour cartridge, we were able to "trick" the printer into thinking the cartridges were full.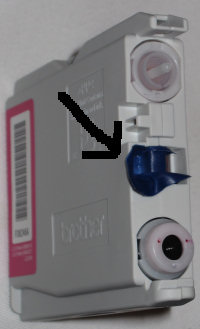 After a bit more searching, I discovered that this is a common issue, especially regarding Brother printers. The reasoning given by printer companies is along the lines of having to continuously flow ink to clean the system. I'll take my chances, as the potential loss of colour printing isn't so bad in our case; I'll also keep hoping for either a smarter, more convenient and economical printing design, or a printing company that isn't trying to rip us off.