First published on May 10, 2009
While Google Street View will soon be available for many major Canadian cities, Canada's own Canpages has already been offering a similar service for Vancouver, Squamish, and Whistler maps since March 2009.
For those who are unfamiliar with Street View / Street Scene, it adds yet another dimension to online maps by showing pictures from the street level, rather than zoomed in satellite pictures (which already provide a lot of detail). Some might find this creepy or Big Brother-ish, but it can be quite useful to explore an unfamiliar area before you go there (for example, you could get a pictures of a weird intersection before you actually drive onto it going the wrong way).
To access Canpages' Street Scene, simply run a search (such as this one), then click the "Street Scene" checkbox in the top right.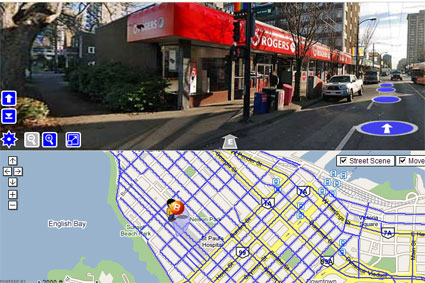 The map on the bottom will show you which streets have pictures available. The picture at the top can be navigated, turned, zoomed, viewed full screen, and more.