First published on April 7, 2007
Guest post by Kristian
I was asked by Peter to write some useful crap about Google Earth, since i keep talking about it all the time. So here it comes
Google Earth 4 is a brilliant piece of software for exploring the globe. Wikipedia says:
Google Earth is a virtual globe program that was originally called Earth Viewer and was created by Keyhole, Inc. It maps the earth by the superimposition of images obtained from satellite imagery, aerial photography and GIS over a 3D globe
This does not sound very exciting, but it is
In addition to the very nice imagery, it also has an excellent system that allows anyone to add additional information relevant to what you are looking at, called layers.
Google Earth comes with a lot of layers out of the box. Geotagged images are one of my favorites. I have used this on a few occasions to find attractions before traveling to a new place. If you are going somewhere you have never been before, turn on the "Panoramio" layer and start looking at your destination.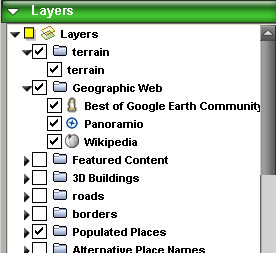 This layer shows a little icon on the map where people have taken images and uploaded them to Panoramio. Where there are attractions there are normally lots of uploaded images, and this is easily identifiable as a cluster of icons.
Here is an small cut out from Oslo, Norway (click to view a bigger image):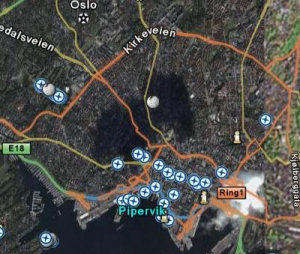 If you look to the top left side of the screen, there are a lot of circular icons seemingly separated from the rest of the images taken in that area. This makes us curious! The neat thing is that we can now click on the icons to see the pictures that have been taken at that location. If I click on one of the icons, I get a screen like this (click to view a bigger image):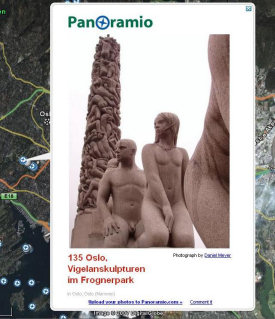 Very nice. By clicking on a few images, we realize that we have now discovered a park called "Vigelandsparken" which contains a lot of stone and metal statues. (And it's a nice park — I've been there.) By looking around like this you get a good feeling of interesting new places to visit
In addition to the layers that comes with Google Earth, you can also load additional ones. One example is geotagged Flickr images from around the globe.
If you want to see a lot of more interesting layers/plugins for Google Earth, there is a lot of good ones on Google Earth Hacks. For example, here are all the buildings in downtown Vancouver in 3D!
zp8497586rq
zp8497586rq
zp8497586rq