First published on April 18, 2007
Need to pay your friend back for those concert tickets? Having trouble meeting up? Sick of writing cheques? Forgetful? Well, if you both have Citizens Bank accounts, just transfer the money over Internet banking. All you need is your friend's account number. Then log in to your account, follow a few steps and poof — instant transfer! I just did this for the first time to pay my friend back for some contact lenses and was surprised at how easy it was. Not only that, I was happy to see that the money actually transferred instantly. At some banks, I've found that even to transfer money between two of my own accounts takes a day or more.
Most of the banks actually have this feature. However, it's not really talked about much (and hey, I just discovered it myself). On most of the major bank websites I see that they advertise their Interac Email Money Transfer service a lot more heavily, which costs $1.50 for the sender. Of course, that service allows you to transfer money to your friend's bank at a different financial institution other than yours, but if you're going to go that route, get personal PayPal accounts and pay each other back without fees! (No more fees, OK?)
So, in the spirit of "friends don't let friends bank with other banks" (or something), bank with the same bank and enjoy the convenience of free instant money transfers. I've touted (and reviewed) online banking in a previous post, and because I'm so excited about how fast and easy it was to pay my friend back with Citizens Bank (no, I don't work there), I'll show you how it's done:
Log in to your account, then click the Transfers button at the top. Specify that you are transferring money to "Another Citizens Bank Account".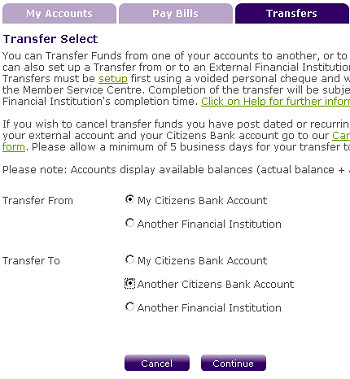 Specify how much money you want to transfer, from which account to which account…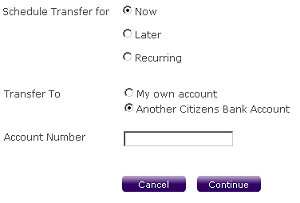 Then voilà — better than cheques!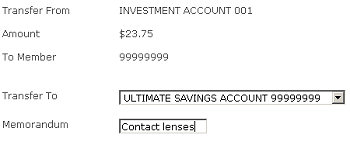 At which point your friend logs into their account and sees that they have money, along with a quirky memo that you wrote.