First published on November 27, 2010
If you're searching for a bank machine on THE EXCHANGE ATM network (or any bank machine for that matter) in the Burnaby South Slope / City In The Park area (near Edmonds SkyTrain station), you'll find one in the BC Hydro building. Use the same entrance as if you were going to visit BC Hydro itself. In fact, there's an entire G&F Financial Group Credit Union branch in the building. The one catch is that you are limited to the building's public operating hours, which is during the day (currently 9am to 4:30pm) Monday through Friday.
When I first used the ATM locator on THE EXCHANGE's website, I couldn't figure out where exactly the machine was, because I thought there would be a separate, outside location for it. I had made a couple of tours around the building one evening to no avail. So if you're as clueless as me, perhaps this post will help you.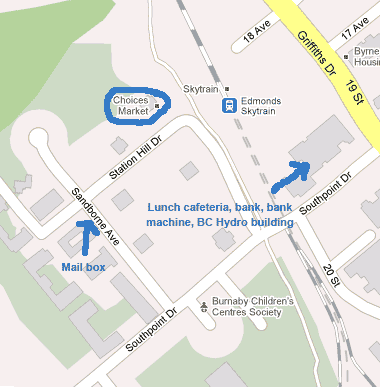 And now to turn this into a mini City In The Park neighbourhood review, here are some random notes on the area. The BC Hydro building also has a nice, relatively affordable, lunch cafeteria that I recommend. If you're new to the area or just visiting, check out the three nice, main green areas (Taylor Hill Park, City In The Park, and the Byrne Creek forest) and the local and organic, but "not any more expensive, and sometimes cheaper than many other grocery stores" Choices Market. Looking for a mail box? There's one at the corner of Station Hill Drive and Sandborne Avenue. It's a relaxing, friendly, and convenient neighbourhood.