First published on February 21, 2012
A site I'm proud to work on with Mugo Web is The 49th Shelf at http://49thshelf.com.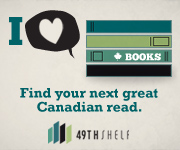 The 49th Shelf is an online community around Canadian books. There are many Canadian book publishers with tens of thousands of interesting titles, but until now there was no site that aggregated all of these books in one place. The website was recently re-branded and re-launched with Amazon.ca as its 2012 lead sponsor (see the press release).
Some current interesting and interactive features on The 49th Shelf include:
Book star ratings, tagging, commenting, and favouriting / bookmarking
Contests, games, and giveaways
Author bios, editorial reviews
Ability to create your own list of books
Recommended reading lists
Extensive categorization of books
A search engine that can be filtered by author, book publisher, and list
Ability to share books via e-mail, Facebook, and Twitter
Plus, of course, you can simply discover new books.
I am not a particularly accomplished book reader, but I try to make semi-productive use of transit time on the train by reading. Check out my Canadian book list.
And if you just want free books, check out the giveaways page!