First published on March 8, 2012
Local Vancouver grocery chain Choices Markets is quietly closing its Burnaby south location near Edmonds SkyTrain station as of April 1, 2012.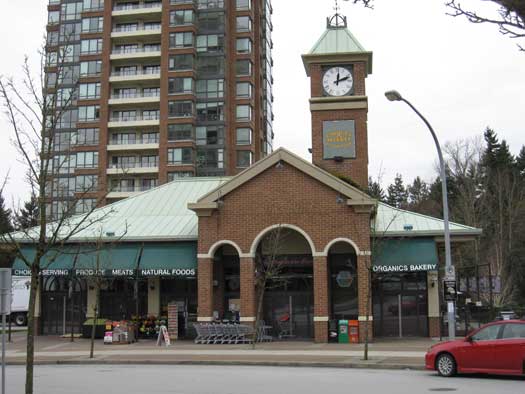 It had been at 6855 Station Hill Drive for about 10 years as the commercial tenant for the "Claridges" condo development just behind it. I was told by Choices Markets head office that they are sad to close the store, and that they simply won't be renewing their lease, but that another grocery store would take its place at an unknown date. Staff at the store are similarly tight-lipped, saying only that the strata bylaw states that the tenant has to be a grocery store.
Apparently the "new landlord" (not sure who, or whether they have any relation to the condo development) told Choices Markets that they had to buy the building; otherwise they wouldn't be able to renew their lease.
April 30, 2012 update: The new grocery store called Habenfresh has opened at the old Choices location. It appears to have a focus on cheaper produce (rather than local and/or organic) and Chinese / related Asian foods.
April 14, 2013 update: Habenfresh is now scheduled to close on May 1, 2013. A new grocery store Park City Foods will take its place.
July 11, 2014 update: Park City Foods appears to be closed and has a distress warrant on its front door regarding unpaid rent.