First published on October 21, 2010
Minimizing or eliminating the use of plastic grocery bags is finally becoming mainstream, with many people carrying around reusable shopping bags and companies everywhere selling and giving away reusable bags. But what about one-use, plastic produce bags? Depending on how much and the types of fruit and vegetables you buy, the amount of plastic you waste in the produce bags in a given trip to the grocery store could be comparable to the plastic in the shopping bag.
Most plastic produce bags are recyclable, but it's still a one-use bag, and the efficiency and usefulness of recycling such plastic is questionable. You can also wash the bags, but if you do that by hand it can be a bit of a hassle, time-consuming, and that takes a lot of water. This is not to mention what you hear about toxins leaching out of plastics.
Enter reusable produce bags: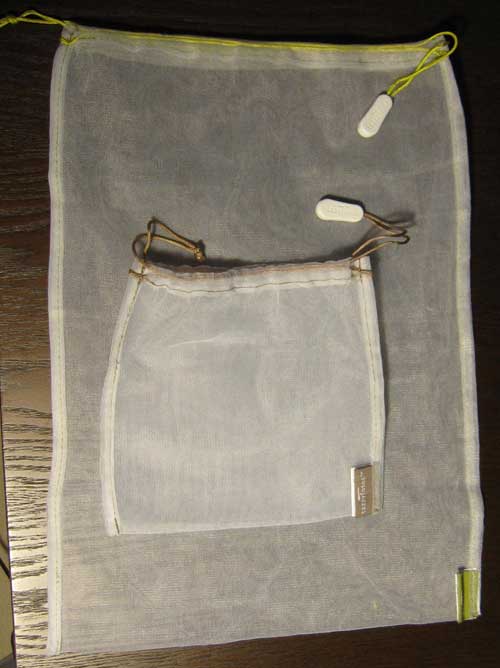 They're small enough that you can stick a few in your reusable grocery bags for convenience. They're light, so they're not excessively inflating the cost of your food when weighed. They're made of washable (and apparently recyclable) mesh polyester, although to be fair that's still plastic. You can put them in the washing machine with your clothes, thus not taking up any extra resources. There are built-in drawstrings so that you can tie the bags if necessary.
I bought some such bags called Tazzy Totes from Choices Markets in Metro Vancouver (specifically the White Rock location). It cost about $8 for a pack of 3 large bags and 1 smaller bag. This is certainly not cheap, but I'd argue that it's worth the fact that they're reusable in a relatively convenient way. And some stores might give you a tiny discount on your grocery bill whenever you use them.
Tazzy Totes are the first commercially available reusable produce bags that I've seen, but I'm sure they could be improved upon. For example, on some of the bags, the small handles at the end of the drawstrings had pointy edges that scraped other clothes in the washing machine — I cut off the handles.
Update: I've noticed a potentially more durable, stretchy alternative called carebags.