First published on November 6, 2008
Many municipalities in Canada have a recycling program. In blue and/or yellow bags, as well as blue boxes, you can put out your recyclable items every week to be picked up. Therefore, you probably know that many types of paper are recyclable, with some municipalities even banning paper from being included in garbage bins. (And speaking of paper, don't forget that you can recycle envelopes with clear windows, pizza boxes, and the tubes inside toilet paper rolls.) You can also recycle glass jars and metal cans.
However, you might not know that many types of plastic can be recycled, as long as you clean them. Your guide to the types of plastics are the codes marked on the packaging: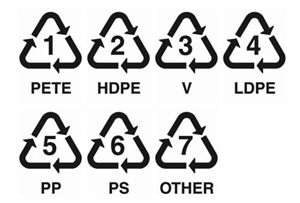 Some plastic packaging do not indicate their types, but there are many websites (such as this one) that give examples of packaging that fit the recycling codes.
Burnaby and Vancouver both accept plastic types 1, 2, 4, and 5. Edit: seems like both of those cities only take plastic containers of those types now? Be sure to check with your municipality! Examples that fit these types include:
plastic shopping bags
shrink wrap
bottle caps
yogurt containers
transparent candy wrapping
containers for toiletries
Delta accepts plastics 1 through 7, which means that you can also include:
shampoo bottles
coffee cups
plastic egg cartons
meat trays
disposable utensils
drinking straws
ketchup bottles
all that plastic packaging on electronics
Check out your municipality's website to see which plastic types you can recycle.
Aaaand, remember. Recycling is actually the third best option. First, use less. Then, re-use items. Then, look at your recycling options. Retail stores and recycling depots accept many things that the municipalities don't, such as batteries.