First published on October 30, 2008
If you want to include forum functionality on a WordPress blog, you'll notice that there aren't many good options available (especially if you rely on the WordPress plugin directory). For reliable, feature-filled forum functionality, people often look to external systems instead of WordPress plugins. However, Simple:Press Forum is a relatively unknown, but powerful plugin that is feature-rich, easy to use, free, and integrates perfectly with WordPress. It is user- and admin-friendly and I certainly recommend it.
I use Simple:Press Forum on 4 of my sites (including on theblog.ca), the busiest being speakoutwireless.ca. In addition to the basic forum setup, I like the following features:
Display of the last "n" posts
User registration integrated with the WordPress user system
User groups, permission-controlled forums, moderation workflow
Descriptive URLs for each post, topic, and forum
RSS feeds
Search functionality
Private messaging
"Report post to admin"
Simple upgrading and an option to completely uninstall it (removing all database tables as well)
Simple:Press Forum also includes two intangible factors that puts it ahead of the game when compared to other plugins in general. First of all, its main developers Andy and Steve run an active support forum that shows off how good Simple:Press Forum is, since the forum naturally uses that plugin. Not only that, but there are few places where you will find such prompt and helpful responses to people's questions and comments. Secondly, the inline documentation is stellar. The configurable forum options for the plugin in the WordPress back-end are not only comprehensive but they are supported by extensive context-sensitive help: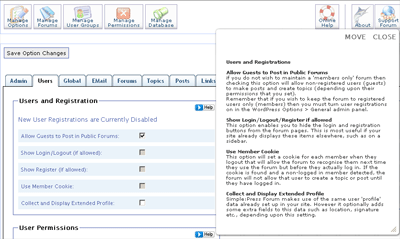 There are also some useful features that I haven't needed yet, including:
Forum post – blog post integration: Basically, whenever you write a blog post, you can choose to make an identical forum post at the same time.
WordPress MU support
Localization support: in other words, easy to translate
Skinnable: there are several default looks available, and of course you can create your own CSS
Signatures and avatars
The Simple:Press Forum code is simple to navigate should you ever wish to extend of modify it. For example, for the phone exchange forum on speakoutwireless.ca, I didn't have too much trouble implementing feedback profile capabilities. Simple:Press Forum itself continues to be in active development, so you can always suggest new features or help out the developers.