First published on August 7, 2008
Every month, mbna (MasterCard) sends me access cheques, hoping that I will pay off balances from other cards or am strapped for cash and will have other uses for them. Usually I just recycle these cheques. However, the latest batch arrived with a fridge magnet: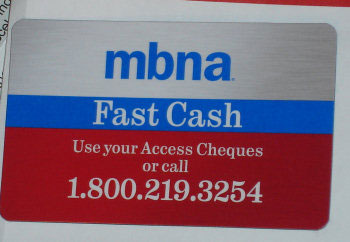 I can't even recycle the magnet (got any ideas?). Therefore, in the interest of efficiency and the environment, I stopped this once and for all. Just because you have a credit card, doesn't mean you should be receiving anything other than your regular statements (which, for most cards, you can now receive via e-mail).
You too can call the number on the back of your credit card, speak to a customer service representative, and ask them to remove you from all direct mail and phone marketing programs.