First published on March 26, 2008
Unlike Canada, Hong Kong is one of the many places in the world in which you can walk into a retail store and buy a SIM card without having to also buy a phone.
For a previous trip to Hong Kong, I had bought a local Hong Kong SIM card on eBay, but you pay a slight premium plus shipping, and the main advantage is that you know your phone number ahead of time (you can also call people before you get to the arrival hall). Recently I had to go to Hong Kong on short notice and picked up a SIM card from the 7-Eleven in the arrival hall of the Hong Kong airport. (Side note: I've also discovered that there are 7-Elevens practically everywhere in Hong Kong.)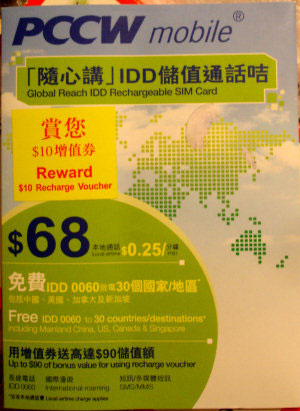 The SIM card cost HK$68. Considering that at the time of writing, 1 Canadian dollar equals over 7.5 Hong Kong dollars, this was less than $10 CAD. It came with HK$78 airtime, and local calls were HK$0.25 per minute. The rate to Canada was the same amount. Compared to what you pay here in Canada, this is outrageously cheap. With this SIM card, I could also roam (good for a side trip to mainland China), and send and receive text messages internationally, albeit for a couple of Hong Kong dollars — still reasonable. I made sure to check my balance regularly, which was a free call to the hotline.
In order to use a Hong Kong SIM card, you need a phone that runs on the 900 or 1800 band. For North Americans, this means that you need a tri-band or quad-band phone. I was fortunate in that the phone I got in 2005 from a Rogers pay as you go deal was a quad-band phone.
Activating the phone was easy, as it was activated as soon as I made my first call. I didn't have to submit any personal information at all.