First published on June 23, 2007
I've raved before about free and cheap long-distance calls with JAJAH. If you have an existing JAJAH account and a cell phone, it's worth checking out two JAJAH services for cell phones: JAJAH Mobile Web and JAJAH Mobile Plugin.
The way JAJAH works, you activate a call through its website and JAJAH phones both parties. This way, many calls are free (if both parties have an account on jajah.com) since neither party actually has to make the call. JAJAH does charge a fee between some destinations, and a higher fee if you're calling or using a cell phone. But the rates are usually pretty darn good. The disadvantage, of course, is that you have to have access to a computer to initiate the call.
Given that many cell phone plans give you free (or cheap) incoming calls, you can take advantage of the JAJAH model for cell phones for when you're out and about. If you have Internet access on your cell phone, read about using JAJAH Mobile Web to initiate calls through mobile.jajah.com. If you're in Canada, this is the only option at the moment, as the other option — JAJAH Mobile Plugin — only worked for me while I was travelling in Europe (more details below).
I have a Motorola v186m, so I tested JAJAH Mobile Plugin, which allowed me to initiate calls by using its Java plugin to send JAJAH an SMS. The difficult part was getting the Java plugin onto my cell phone, which took a bit of reading on the JAJAH forums. I don't really recall that process much, except that I successfully used the V3 RAZR version of the Java plugin on my v186m (which wasn't on the list). (If you have questions about how to get the plugin onto your cell phone, please use the JAJAH forums.)
There is an SMS number for the service in Europe and the United States but not for Canada (I confirmed this with Jajah's customer support). But all is not lost — I managed to call Canada and Hong Kong on my cell phone through JAJAH Mobile Plugin while I was in France.
After installing the plugin on my cell phone, I made sure that the "Mobile" entry on my jajah.com account was set to my cell phone number while in France.
Then, here's how I placed a call on my phone:
1. Open the JAJAH Mobile plugin: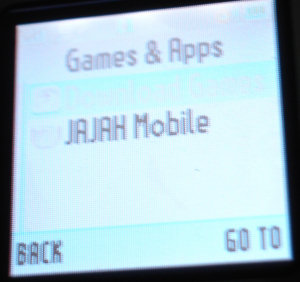 2. Specify the correct country code of my cell phone (which at the time was the one for France):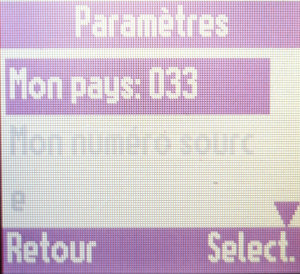 3. Enter in the number I want to call: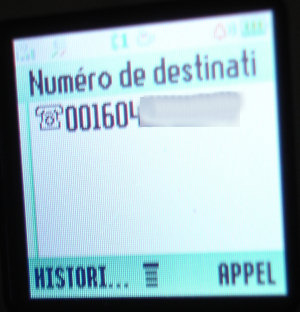 4. Confirm that I want to use the SMS way of initiating the call: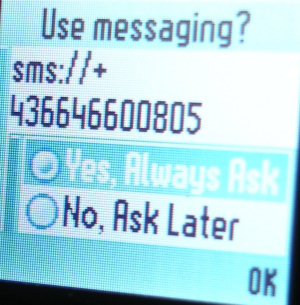 My cell phone then rang. After I picked up the phone, my destination number started ringing. Success!
How much did it cost? There are two sources that could charge me: JAJAH and my cell phone service provider in France (which was Bouygues Telecom). As is the case with most cell phone plans in France (and other places in Europe), incoming calls were free with my cell phone service provider. I was charged 0.30 Euro for the SMS sent to JAJAH to initiate the call. On the JAJAH end, the rates when using French cell phones are decent but not great — it was 17.9 cents per minute. But I still consider it to be a success because it was more convenient than buying a phone card and cheaper than if I'd phoned Canada or Hong Kong on my cell phone from France without going through JAJAH.
My verdict on JAJAH Mobile Plugin
Depending on where you are, where you're calling, and whether you're tech-eager enough to set it up, JAJAH Mobile Plugin can be cheap and convenient. For example, when I was in London, the Orange Call Abroad plan was cheaper (although JAJAH would have been a good backup if I'd run out of credit on my Call Abroad plan). If support for JAJAH Mobile Plugin ever comes to Canada, I'll be sure to try it because the JAJAH rate from Canadian cell phones to many destinations is $0.