First published on June 14, 2007
Two of the online banks that I use — Citizens Bank and ING Direct — have recently implemented the option for customers to stop receiving paper statements! Well, it's about time.
Here's how to go green with ING Direct:
Log in to your account, hover over the Change my info & options tab, then select the Statement Mailing Preferences option. From there, it should be straightforward: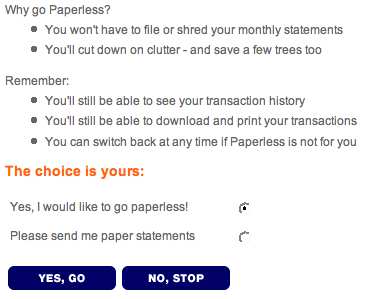 Here's how to go green with Citizens Bank:
Log in to your account, click on the Member Services tab, then click the Change Statement Options link on the left menu. From there, you have a few more options, but it's still pretty straightforward: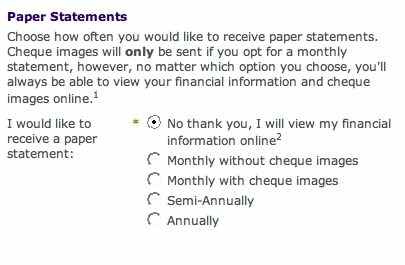 For me, it didn't quite work out with the whole paperless thing at Citizens Bank. This was their reply:
"Please note that according to Citizens Bank policy, any Member who has a Line of Credit (LOC) or overdraft protection attached to her or his account number cannot opt out of receiving paper statements. This is because legislative requirements state that an individual must receive a notice if she or he has any interest charges on the LOC."
The law there makes sense, but I've never actually needed to use that overdraft protection feature (it comes with the Investment Account). How about tweaking the law so that your bank must send you a paper statement when you use your line of credit?