First published on May 6, 2007
I drink apple juice daily. But I was getting tired of the rising prices of Sun-Rype juice, with the once-in-a-blue-moon sales at regular grocery stores clocking in at $1.33 CAD for a 1 litre carton (which I think is the regular price at Costco) and the regular price of around $1.79.
Other juices (which aren't really cheaper) are from concentrate. So for the not-from-concentrate stuff, I've been stuck with Sun-Rype.
Luckily I found D'Angelo apple juice on sale at Zellers for $0.99 for a 1.36 litre bottle. I bought a few bottles to try and quite frankly, it's just as good as the Sun-Rype variety and also not-from-concentrate (only ingredient: apple juice).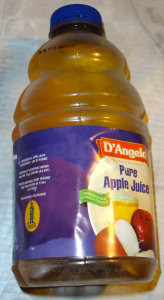 The regular price at Zellers is $1.49, which is the equivalent of $1.10 per litre. I'm a D'Angelo convert.