First published on May 6, 2007
Pardon the randomness, but during my first Eurotrip I'm going to see the French Open (aka Roland-Garros, the tennis tournament on clay). Sourcing tickets is not easy and my advice is to… plan early, like as early as November (the tournament is at the end of May and beginning of June).
Anyway, from what I've discovered, there are three kinds of tickets (Philippe Chatrier — center court + general grounds, Suzanne Lenglen — court #1 + general grounds, and just general grounds) all good for access for a day. This is described quite well on the websites of ticket resellers such as this one. There's also a 4th kind of ticket that you can buy the day of, in order to see night matches only.
I ended up buying a ticket to Philippe Chatrier (and the other courts except for Suzanne Lenglen) on eBay. Yeah, probably not the best place to get the ticket, but I don't really have any contacts in France to line up for the leftover tickets sales and I don't really want to rely on the scalpers. The big confusion for me is that my research about Philippe Chatrier reveals that there are three categories of tickets for that court — red, white, and blue. But the map that accompanies the ticket seller looks like this: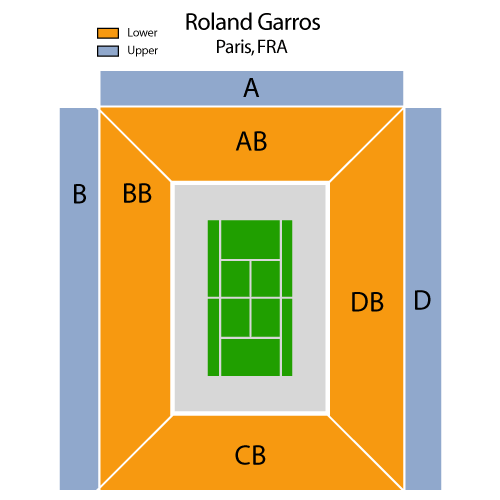 Yeah, no red, white, or blue. So how do you know what tickets you're getting in advance?
Well, the lower-level seating AB, BB, CB, and DB are the red section. The middle, front of the upper-level of sections A, B, and D are the white section, while the corner and back sections of A, B, and D are the blue section.