First published on March 24, 2007
I never enjoy bashing a product, but hey, if someone's unsure about whether they should buy a product, they ought to be able to read about other user experiences instead of relying solely on the slick marketing flyers for information! I did a Google search for this product and found no reviews!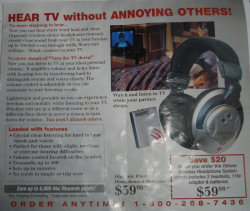 My parents bought these Digisonic wireless headphones (two pairs) and I had the pleasure of setting them up and testing them out. Setup was easy — you plug the transmitter into the audio source, whether that's a television, stereo, or other audio product. Then you turn both the transmitter and headphones on and poof — wireless sound (in theory). I tested this out both on a TV and a computer and had a similar experience on both.
Here's what the flyer claims and my corresponding comments:
-Crystal clear listening for hard to hear words and voices: at full volume on the headphones and medium volume on the source, I had to strain to hear anything through the headphones, and there was a static buzz.
-Perfect for those with slight, medium or extreme hearing difficulties: I don't have any hearing difficulties (yet) but unless I cranked the volume on the source, the sound was quite poor.
-Volume control located on the headset: Yes, this is true.
-Transmits up to 100′: This is perhaps true if there is an absolutely clear line of sight between the headphones and the transmitter. And it might "transmit" but it certainly won't "transmit well". The moment I walked into the adjacent room (which doesn't have any wireless interference) the static noise hurt my ears and was unbearable. In fact, while in the same room as the transmitter, if I moved my arms around or even moved my head, the static would rear its noisy… head?
-Sets up in minutes: Yes, this is true. But if you are trying to figure out what's wrong with the product and the poor sound quality for a while, this is not true.
-No cords to tangle of trip over: Yes, this is true. But the terrible quality of these headphones might make you wish for corded headphones.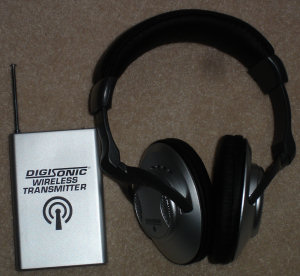 So my parents bought this so that one could watch TV and not disturb the other (if sleeping or something). Note that for most televisions, if you mute the sound on the built-in TV speakers, you'll also be muting the "audio out" jacks. Thus you have to hope that the headphones can amplify a soft TV sound to achieve this "do not disturb" goal. This is not feasible with the Digisonic wireless headphones.
I urged my parents to return the product for a refund. Since they bought two headphones, I assume that it is unlikely to be a random product defect on that end. It could very well be a defective transmitter, but at this point I believe it to simply be a poor product.
Do you have a positive (or negative) story to share about these headphones? Post a comment!