First published on March 24, 2007
Right-click the link and select "Default Formatting"!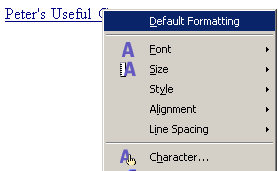 Working for an Open Source company and personally enjoying the typically "free" aspect of Open Source, I try and use NeoOffice and OpenOffice.org as much as possible. But one of the really annoying things is that it is not intuitive on how to remove a hyperlink! I often want to keep the text but not have it link anywhere anymore. The natural thing to do would be to open the hyperlink properties / option menu and then either delete the text in the "Target" field or click on a "Remove hyperlink" button. Well, deleting the "Target" field does not work and there isn't even a "Remove hyperlink" button! Ack!