First published on May 11, 2015
I've been interested in car sharing programs for quite a while as a second car option (if not eventually a primary car option!). The promise is that they provide the convenience of a car without the costs and hassle of actually owning one. However, outside of Vancouver itself, there are very limited options in Metro Vancouver. After moving to New Westminster, I discovered that Modo operates here (and is the only car sharing company that does); as of the time of this post, there are 11 vehicles in New Westminster, including 3 at the Quay and 1 outside of the Columbia SkyTrain station.
I decided to try Modo. It was easy to sign up, easy to book a car, and pretty fun, too.
All but 2 of the Modo cars in New Westminster are a 2012 model year or newer. The older ones are a 2011 Prius and a 2009 Dodge Caravan. They are all sedan or hatchback sizes except for the Caravan and a RAV4.
To join Modo, you have to pay a $20 application fee. Then you can choose 1 of 2 models:
pay a refundable $500 buy-in fee to become an owner, then for actual usage pay $4 per hour + mileage (40 cents per kilometre for the first 40km, then 20 cents thereafter); or
pay $5 per month as a standard member, then for actual usage pay $8 per hour with the first 200 kilometres free
(There are a few more differences in the different membership models, which you can find out more about on the Modo website.)
Gas is included in the cost, as are Golden Ears and Port Mann bridge tolls. You are expected to fill up the tank past 1/4 full at all times, although you use a Modo credit card, which is included in a pouch next to the steering wheel: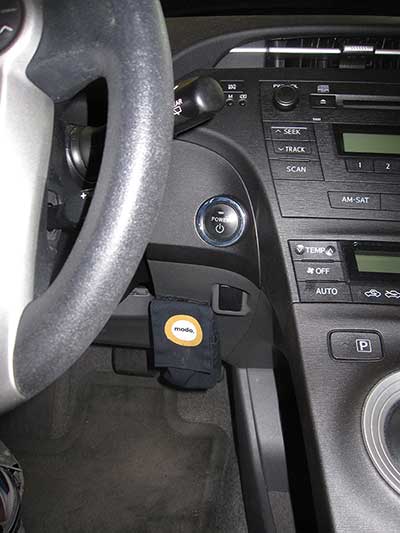 You pick up your car from a designated spot and have to return it to that same spot when you are done.
You don't have to worry about car insurance or maintenance. If you pay for your bookings with a credit card that has collision damage insurance for rentals, that coverage is valid for Modo bookings as well. Otherwise you can pay into a damage insurance pool, which is currently $39 per year.
Extra note: I was surprised to find out that you can take a Modo car to the USA.
Here is a brief summary of my experience when registering for a Modo membership, as well as making my first booking:
The application process was done (almost) entirely online. After completing the application, I had to call ICBC to get them to e-mail my driving record to Modo. After that, it took exactly 1 week for my Modo fob to arrive in the mail:
Once I had my fob, I signed in to the Modo website to search for available cars for a specific time period and location: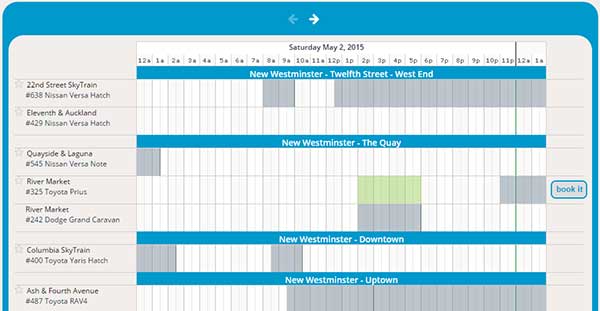 I was able to view information about each car and see a map showing where to pick up the car: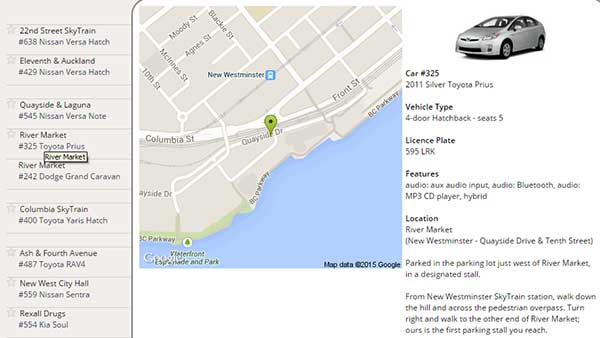 Once I'd selected a car and time period, I could view additional information about the car, such as special operating instructions for a hybrid car. (There are no keys, and to power it on there is a… Power button!)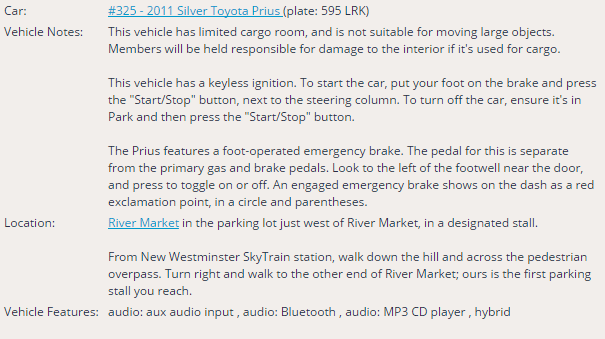 When the time came to pick up the car, I walked over to the location and there was the Prius, in a dedicated Modo parking spot:
Using my fob, I waved it over the sensor on the dashboard and the car automatically unlocked. To lock the car (and disable the engine) at any of my stops, I waved the fob over the sensor once again.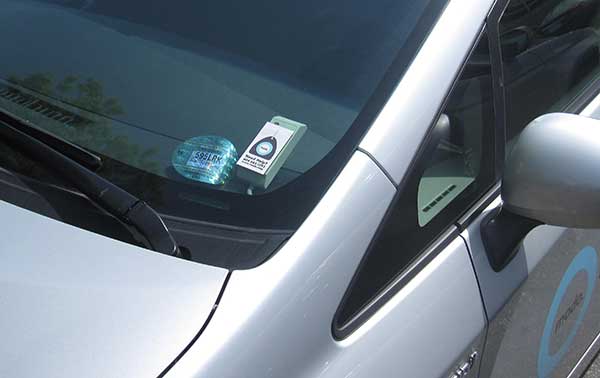 I thought I had plenty of time to return the car, but I ended up being stuck behind a train for 15 minutes. (Tip in New Westminster: if you're returning a car to the Quay, consider using the overpass at Quayside and Carnarvon, as you might get stuck at Front and Begbie!) I called Modo to tell them about this. Thankfully the next booking wasn't for another 30 minutes, so they extended my booking by the extra half hour, which cost me an extra $4 instead of having to pay the $25 late fee.
I then parked the car back in the same parking stall, "fobbed out", and walked home.
I can definitely recommend Modo. If you think it might suit your needs, you can essentially try it out by choosing the monthly $5 membership option. You can of course do your own calculations to figure out whether a car sharing service makes sense for you, whether Modo is the best option compared to the competition (such as Zipcar, Car2Go, and Evo), and then within each service, which plan suits your needs.