First published on June 27, 2015
If you have a Tangerine Bank regular savings account (not a TFSA or RRSP savings account), it's worth calling in to see whether you can get the latest promotional offer of a 3% interest rate for 6 months.
When ING Direct was launched in 1997, it was a clear leader regarding high interest savings account interest rates. Over the years, savings account interest rates everywhere in Canada have dropped significantly, making the term "high interest" a bit of a misnomer. However, even before Scotiabank bought ING Direct and rebranded it as Tangerine Bank, ING Direct's savings account interest rates had been dropping faster than other comparable accounts, and it is currently tied for last on this chart.
Tangerine Bank has been putting out a lot of interest rate promotions with unattractive stipulations. For example, the rate might be only on net new deposits, or there might be a bonus for taking a one-time action such as switching your direct deposit payroll, or with terms that steer you towards locking in your money for lower rates in the future.
The latest promo is more straightforward, although if you haven't received a call or an e-mail about it, you'll have to call in to see if you can get it. In short, it offers a 3% interest rate (technically a 1.95% additional rate on top of the current 1.05% rate) for all money in your regular savings account(s) for the next 180 days / 6 months. The 6-month 3% rate makes Tangerine the temporary leader for a savings account interest rate in Canada. Once the rate is applied to your account, you don't have to change how you save or set a reminder to pull the money out before it gets locked in — the additional interest rate will just get removed after 6 months. I first read about it in this thread, where you can read about other people's experiences in getting the promotion.
Not only is this promotion not publicly advertised, but there is no official information about how someone is eligible to take part in the promotion (whether it's based on your account history or balance) or when the offer will end. When I called in, I told the customer service representative that I read about the promotion on an online forum and that I'd like to take part in it. They said "Sure, we can see whether we can apply that right away" and then almost immediately after, "Yes, I have access to add it". He couldn't tell me why he had access to add it, though.
I was able to confirm that the promotion was applied by clicking on the "My contest entries and Bonuses" on the left menu:


… and then it appeared in the "Your special rate offers" table: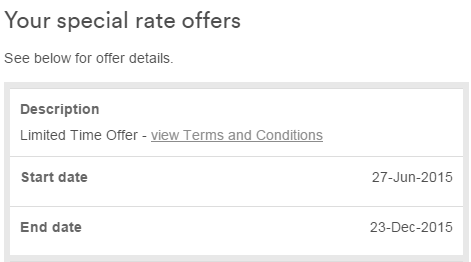 Here is the full list of terms and conditions that appeared on my account.